The past year has brought a welcome "return to normal", as many have resumed pre-pandemic – though slightly modified – routines around work, family life, school, and recreation. Demand in the luxury residential market in 2022 went up steadily, with a momentum of 6-8% growth, spurred by the limited number of new property launches in Singapore.
As we look ahead to 2023, Singapore's real estate market is poised to continue its growth with a surge in luxury property developments, and the promise of an unprecedented lifestyle that multi-use developments offer to prospective home buyers. From elegant city centre new developments with sprawling residences to mixed-use enclaves, these new luxury properties provide smart investors a host of lavish amenities, exclusive concierge services, private swimming pools, and spaces to entertain. 
Amidst the backdrop of uncertainties and challenges, a new wave of property developments is set to arrive that will redefine luxury living in Singapore. Wealthy buyers searching for world-class properties in the upper tier will likely not be deterred by the recent announcement of counter-inflation measures in Singapore's FY2023 Budget. These measures will minimally impact this property price tier. 
Given the potential for capital appreciation, buyers may find these new luxury developments to be an attractive investment. The influx of new property launch developments is expected to have a positive impact on the Singapore real estate market. Upper-tier home buyers who held back from purchasing properties due to limited suitable options will have a feast of new launches in 2023 to satiate their pent-up demand. 
Analysts expect 30 to 40 new private residential developments to be launched this year making 2023 an undoubtedly exciting year for luxury homebuyers in Singapore, with a plethora of exquisite new developments coming onto the market in Singapore's most affluent sought-after areas.
So, what economic and lifestyle factors will shape the residential landscape in Singapore's prime Core Central Region (CCR) in 2023? 
We'll see an exclusive set of merely 20% of all new leasehold and freehold units – or an estimated 2,220 properties – being introduced into the market in 2023. With such a select number of properties, our lead luxury property consultant, Sunita Gill, shares her recommendations on the top new developments on the horizon.
Newport Residences (D2), Q2 2023
Newport Residences is part of an integrated development concept with commercial offices and retail and serviced apartments set against the backdrop of the historic Tanjong Pagar neighbourhood. Educated investors and homebuyers will find that a launch condo in a mixed-use development can buoy property value, with the success of each component leading to an investment opportunity for enhanced value. 
When complete, Newport Residences' sleek, modern properties will be at the centre of business, thriving in a place where Singapore's past and future exist together.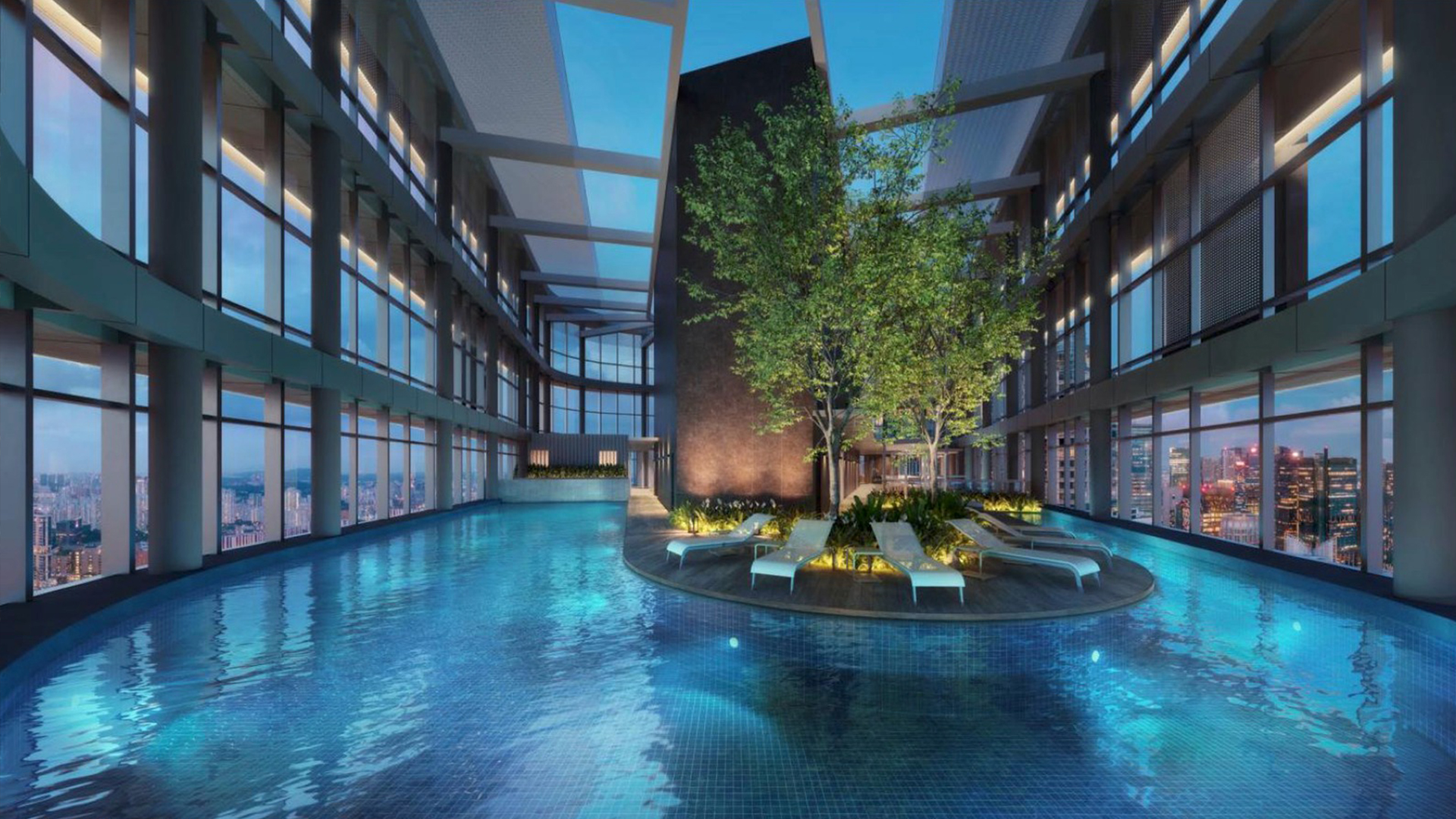 Location: 80 Anson Road
Tenure: Freehold
Developer: City Developments Limited (CDL)
Completion TOP: TBA
Development size: 60,851 m2
Units: 256
Unit Types: 1- to 4-bedroom condominiums and penthouses
Showflat: 1H 2023
The Cairnhill (D9), Q3 2023
The Cairnhill is an exclusively new freehold property launch in Singapore for the discerning investor. This small collection of residences rises above the bustling Orchard Road landscape, situated atop a hill in one of Singapore's most desirable residential areas. The retreat-style living is guided by a singular design principle: "Luxury as a distinctive and individual experience". 
The design sensibility reflects the thoughtful aesthetics at the heart of the modern tropical architectural design that maximises space without compromising style. Sophisticated buyers will converge on this luxury real estate property in one of the most affluent neighbourhoods in Singapore. 
Location: 4 Cairnhill Rise
Tenure: Freehold
Developer: Far East Organization
Completion TOP: 2027
Development Size: 60,851 m2
Units: 75 units
Unit Types: 1 to 5 bedroom condominiums
Showflat: TBA
Marina View Residences (D1), Q3 2023
Marina View Residences sits just outside the Central Business District (CBD) of Singapore, connecting it to Singapore's economic beating heart. The multi-use development is a new private property launch in Singapore that sets to create a mini enclave of amenities combining a 540-room hotel property, commercial retail and F&B concepts with the residential areas.
Marina View Residences' proximity to the CBD ensures an asset that will only appreciate as Singapore's economy continues to rise. It's a smart choice for any investor looking for luxury, opulence and access at your convenience.
Location: Marina View (along Union Street and Shenton Way)
Tenure: 99-year leasehold
Developer: City Development Limited (CDL)
Completion TOP: 84 months (estimated)
Development size: 7,817.6 m2
Units: 905 units
Unit Types: 1- to 5-bedroom condominium units
Showflat: Q4 2022
Former Peace Centre & Peace Mansions (D9), Q4 2023
The  Former Peace Centre & Peace Mansions promises to be a shining investment for people looking to live in a mixed-development property with self-contained amenities in a prime location without being in the hustle and bustle that comes with living directly in the CBD.
The purchase of the land was a major news story, receiving national attention as a noteworthy sale and one to keep an eye on as the new launch property in Singapore becomes available for investors and buyers. Its prime location is between six different MRT stops, making it one of the most accessible new properties to come onto the market in Singapore. 
Peace Mansions' location also promises to be a serene and peaceful sanctuary despite sitting slightly off Orchard Road. It's a perfect space for investors seeking synergy and ease of access, with the property connected to major shopping districts, educational facilities, cultural centres, and within a short walking distance to the historically quaint neighbourhoods and parks.
Location: 1 Sophia Road
Tenure: 99-year leasehold
Developer: CEL Development, Sing-Haiyi Crystal and Ultra Infinity
Completion TOP: TBA
Development Size: 7,117 m2
Units: TBA
Unit Types: TBA
Showflat: TBA
Former Watten Estate Condo (D11),  2H 2023
The Former Watten Estate Condo is perfect for investors looking for a relaxed property connected to nature, within Singapore's urban landscape. The new launch freehold property in Singapore is located close to Singapore's green spaces, such as the UNESCO World Heritage Site Botanic Gardens and the nature reserve MacRitchie Nature Trail and Reservoir Park, making it perfect for nature lovers. Its lush surroundings are perfect for homeowners looking to reconnect with nature amidst Singapore's bustling environment, while remaining accessible to the city. 
The estate itself will be attuned to these needs, encouraging relaxation and contemplation with its exquisite finish and elegant aesthetic. The entire design of the space is inspired by the harmony of nature, making it your safe haven from the busy world outside. Yet, it still is designed for the future with the residences being outfitted with smart home systems for your convenience and comfort. 
The resort-style living is also situated in one of the hottest locations when it comes to top school districts to make it a standout in a crowded market for investors with children.
Location: 36 – 44 Shelford Road
Tenure: Freehold
Developer: UOL Group and SingLand
Completion TOP: 2026
Development size: 20,461 m2 condominium
Units: 286 units, 5 storeys
Unit types: 1- to 5-bedroom  and Penthouses
Showflat: TBA
Amenities: Swimming pool, tennis court, gym, squash court, infinity pool, tree hammock and pavilions
Connect with our Luxury New Property Launch Agents
Whether you're looking to make a discerning investment into one of the most illustrious real estate markets in the world, or to find a defining home for your family, SG Luxury Homes is the quintessential je ne sais quoi property consultant when it comes to Singapore's luxurious new launch properties.
SLH curates a select collection of real estate properties and new launches for sale with the most exclusive amenities and services. Join our email list to be the first-to-know about the finest new launch listings coming onto the market.
Whether you're looking for a primary residence or a new launch property in Singapore as an investment, contact SG Luxury Homes — renowned as the top 1% luxury real estate team and acclaimed for landmark property transactions of more than $45 million. When you work with us, you are working with one of Singapore's most successful, creative and sought-after luxury real estate agencies.