One of the Most Highly-Awaited
Condos in Watten Estate
Debuts
The excitement around Watten House in Singapore is undeniably infectious, often seldom experienced, as it is the first FREEHOLD launch in the Watten Estate area in a decade. Nestled along the Bukit Timah corridor, this new launch is surrounded by a high concentration of Good Class Bungalows and landed homes, making its location a rare commodity due to the limited developments that have recently graced the market in the area.
The Watten Estate residence isn't just about its prime location; its refined design is modern and elevated to calming and serene elegance. The design philosophy embraces minimalism, showcased across eight freehold blocks. The five-storey mid-rise of residences emphasises light and airy views, seamlessly bringing the outdoors inside and thoughtfully crafted communal spaces.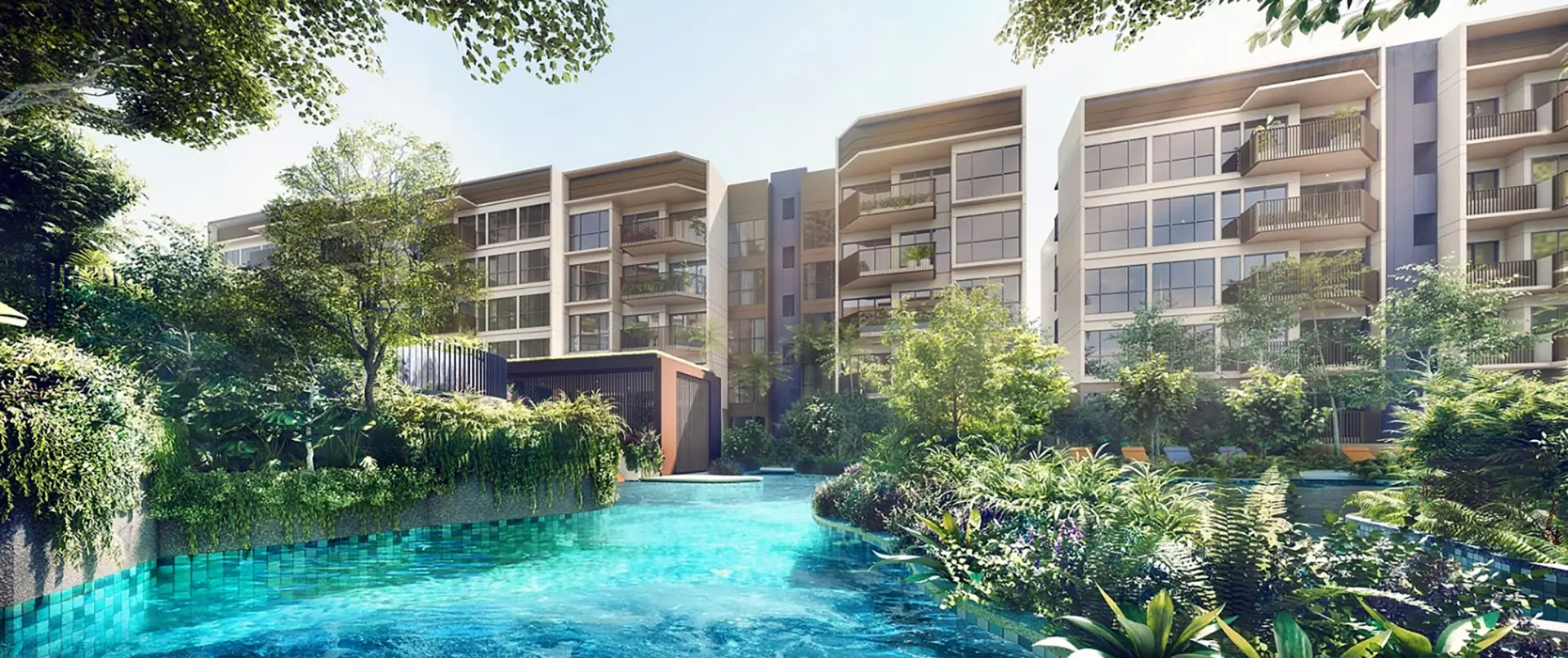 Singapore's Watten Estate area offers a lifestyle seamlessly merging high-end urban living with natural ease. Residents can find themselves enveloped in spaces adorned with hospitality-grade amenities and exquisite finishes, each corner marking a discovery awaiting exploration.
The neighbourhood itself enriches the Watten House condo experience. Small eateries sprinkled throughout the family home streets lined with trees and just moments away from the tranquil trails of Bukit Timah Nature Reserve. 
Owners are afforded the luxury of having premiere educational institutions within a stone's throw, such as Nanyang Primary School and Raffles Girls' Primary School. Located within a mere 1km away, this proximity to educational excellence amplifies the property's intrinsic value, but also a family neighbourhood that fosters intellect.
Interiors Feature Contemporary Styling
Contemporary refinement, comfort and natural splendour encapsulate Watten House. The Watten Estate en-bloc offers 180 residences that artfully nestle within the 5-storey towers, dispersed across eight blocks.
Looking out through the floor-to-ceiling, double-paned glass windows, residents are greeted with beautiful views of the surrounding greenery. Every private balcony is a special spot where the gentle breeze and soft sunlight provide a daily touch of nature's comfort.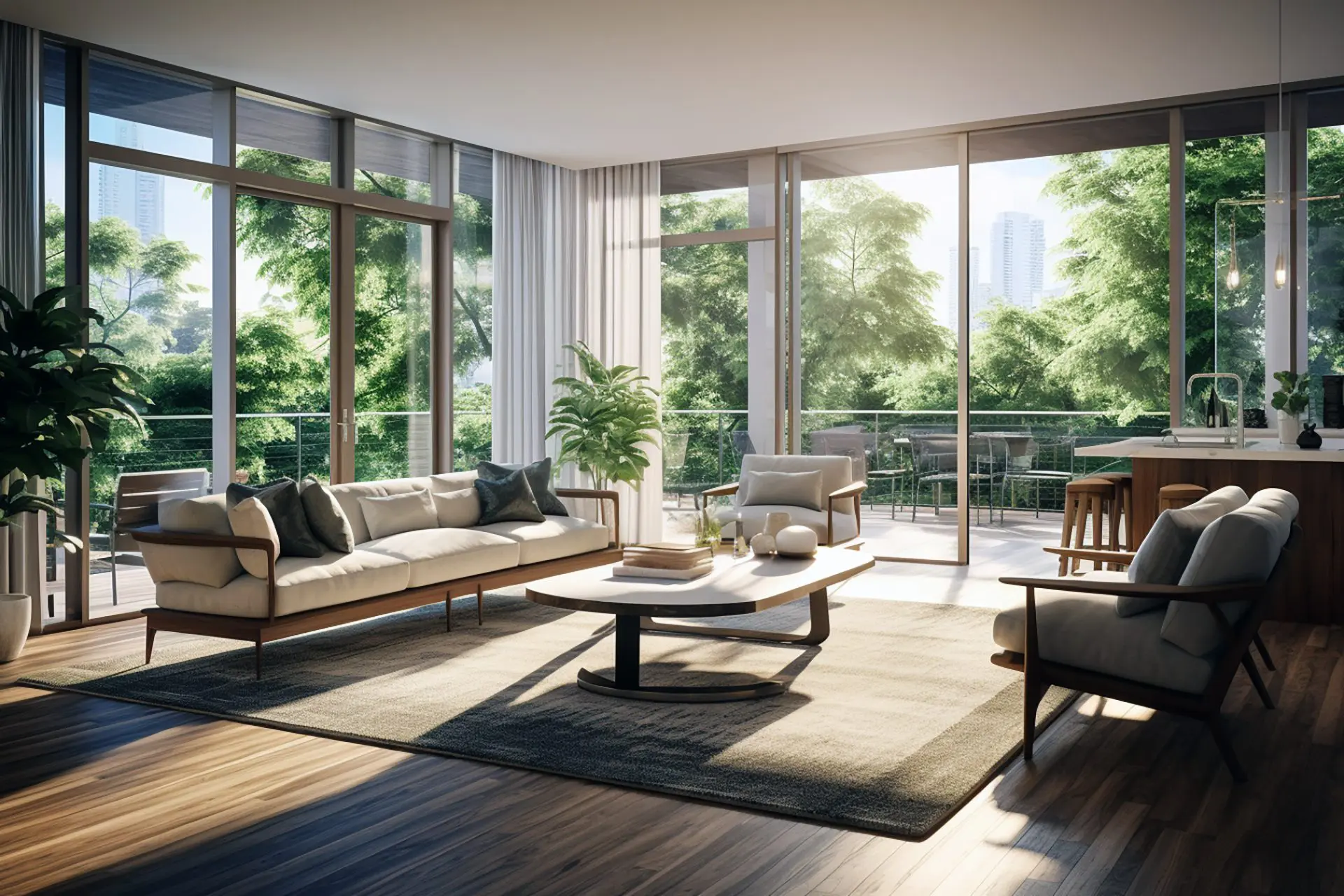 Conceptual visualisation of the living room interiors of a 3-bedroom condominium, set to be unveiled at the anticipated launch of Watten House.
Each Watten residence for sale showcases luxury, providing a living experience personal to you. Those looking to make a home here can choose from 3- to 5-bedroom floor plans, each reflecting an individual's design for living. Every room features high-end finishes that blend elegance with practicality. The modern touch is evident in the stainless steel appliances, while the wood-style flooring brings a traditional, warm feel.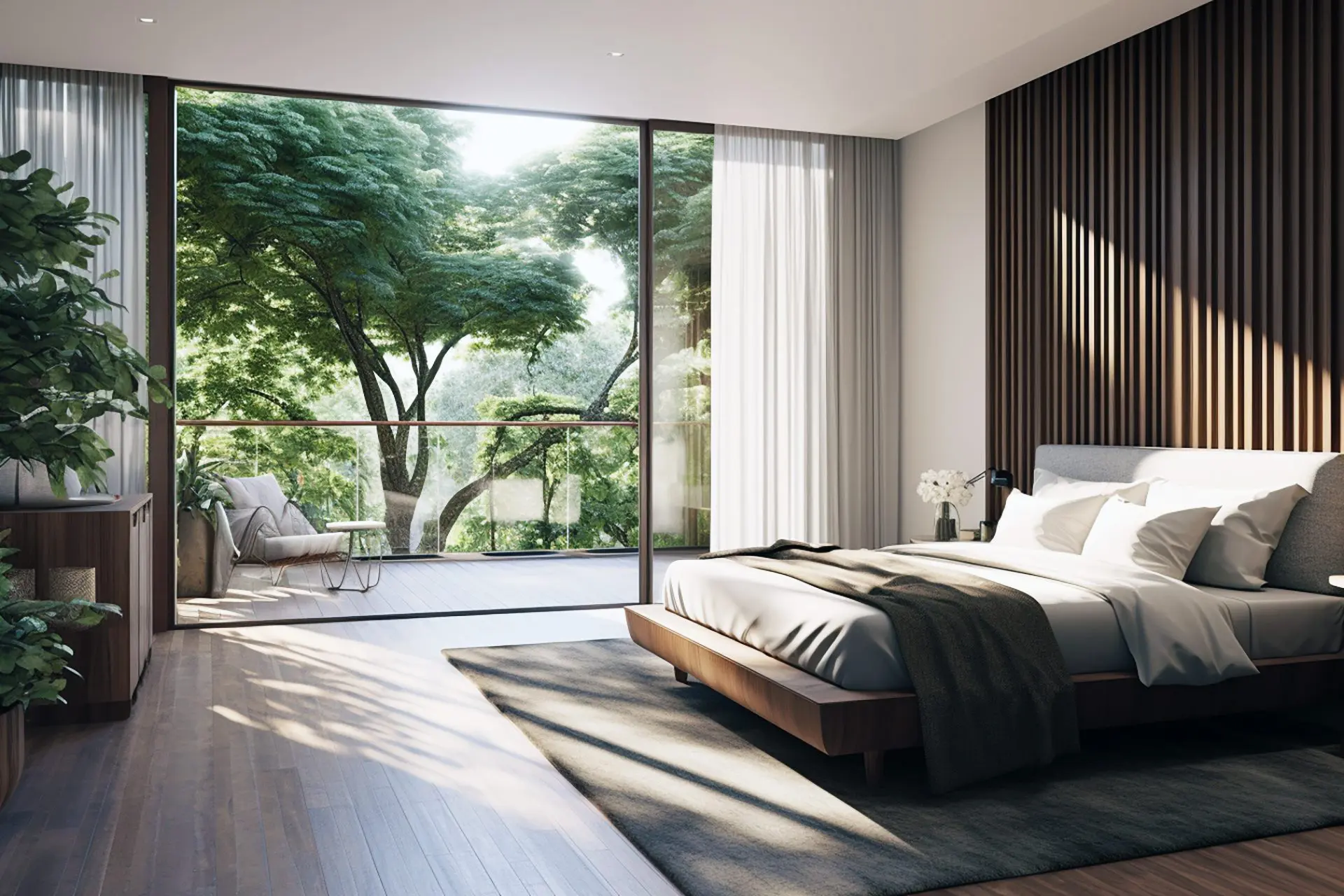 Artistic interpretation of a bedroom interior, offering a visual journey to the lush, tree-lined estate of Watten House.
At Watten House, the generosity of nature isn't confined to the breathtaking exterior landscapes but also weaves its magic through the interiors. The glittering surfaces of polished countertops uplift, with their gleam echoing the natural light. These aren't merely apartments but thoughtfully designed retreats offering refined upscale living. 
Every corner and every detail at Watten House freehold development is an intimate experience created just for you, where nature and luxury unite, elevating everyday living to a lifetime of memories.
Hospitality-Style Building Amenities
Watten House offers more than just a beautiful place to live surrounded by nature — it also has hospitality-inspired amenities designed to make life easier and more enjoyable for residents.
Residents are greeted with a lobby upheld by 24/7 security services at Watten House, ensuring safety. The lifestyle and wellness facilities invite residents into an oasis of relaxation; areas for sunning accentuate the resort-style pool deck with a lap pool.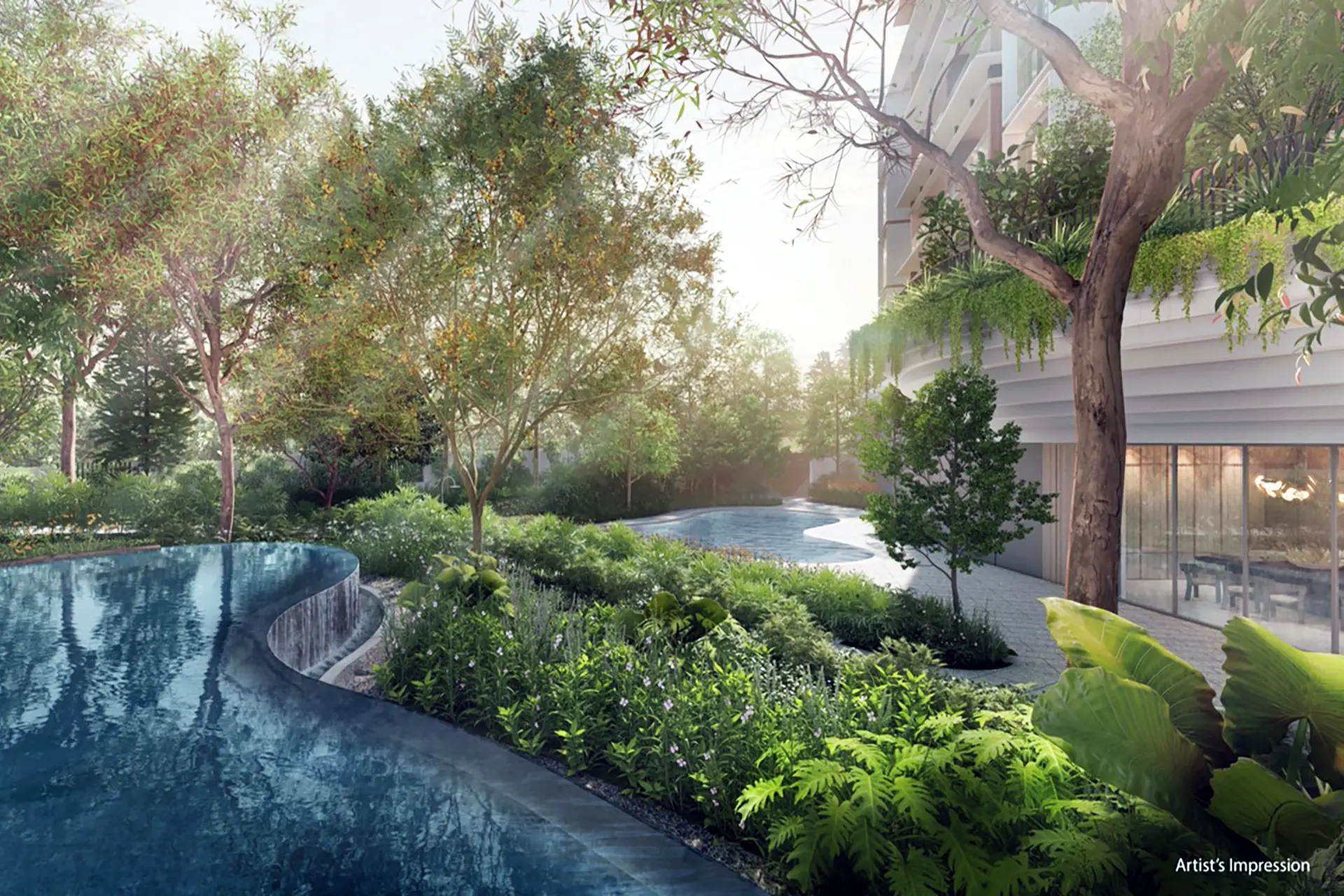 Fitness enthusiasts will find solace in the expansive wellness centre, equipped with premiere workout machines, modern technology and private areas for a personalised exercise experience.
The amenity of spaces extends beautifully into designed indoor and outdoor areas, accentuated by grilling stations and dining areas. Outdoor terraces unveil private dining and event lounge spaces, promising exclusive and memorable moments against the backdrop of panoramic views.
The splendour of Watten House isn't limited to its interior luxury; it seamlessly flows into exquisitely crafted outdoor areas. Residents can enjoy meals with family and friends at the elegant grilling stations and outdoor dining spaces, each coupled with event lounge spaces, where every moment becomes a cherished memory.
Here at Watten House, the boundary between abundant living and the serenity of nature is blurred, crafting a living experience where luxury and nature coalesce in harmonious splendour.
Sought-After Neighbourhood in Singapore
Watten House freehold property is a peaceful sanctuary tucked away on Shelford Road in the heart of District 11 in Bukit Timah, ensuring private living while being a stone's throw away from bustling city life. 
Despite its serene location, a world of entertainment, art and dining awaits just around the corner. With the Central Business District less than a 20-minute drive away and Tan Kah Kee and Botanic Gardens MRT stations within walking distance, residents enjoy a hassle-free commute and easy access to the city's attractions.
Here, residents enjoy the quietude of their homes and the vibrancy of city life. Within a 10-minute drive, many renowned restaurants, historic theatres, cosy libraries, bustling markets, and grand outdoor concert venues unveil themselves, offering endless leisure options. The convenience extends to public transit, with numerous bus services nearby ensuring seamless connectivity to various city parts.
Living at Watten House means having a private retreat and an entertainment hub all rolled into one, marrying tranquillity and excitement. It epitomises the best of both worlds, where residents bask in calm and privacy at home and step out to immerse themselves in cultural, dining and entertainment hotspots whenever the mood strikes. 
The blend of seclusion and accessibility makes Watten House desirable for those seeking a balanced lifestyle amidst the city's pulse.
Watten House Price Is A Solid Investment
Sales of new private homes (excluding executive condos) dropped 72% in August, with 394 units sold, compared to 1,412 in July, according to PropNex Private New Home Sales monthly report for August 2023. This downturn across all regions is attributed to buyer fatigue and a less excited market and was 10% lower than the same time a year ago.
In the Core Central Region (CCR), however, sales rose by 9%, with Orchard Sophia leading the way, where units sold at a median price of $2,808 per square foot (psf).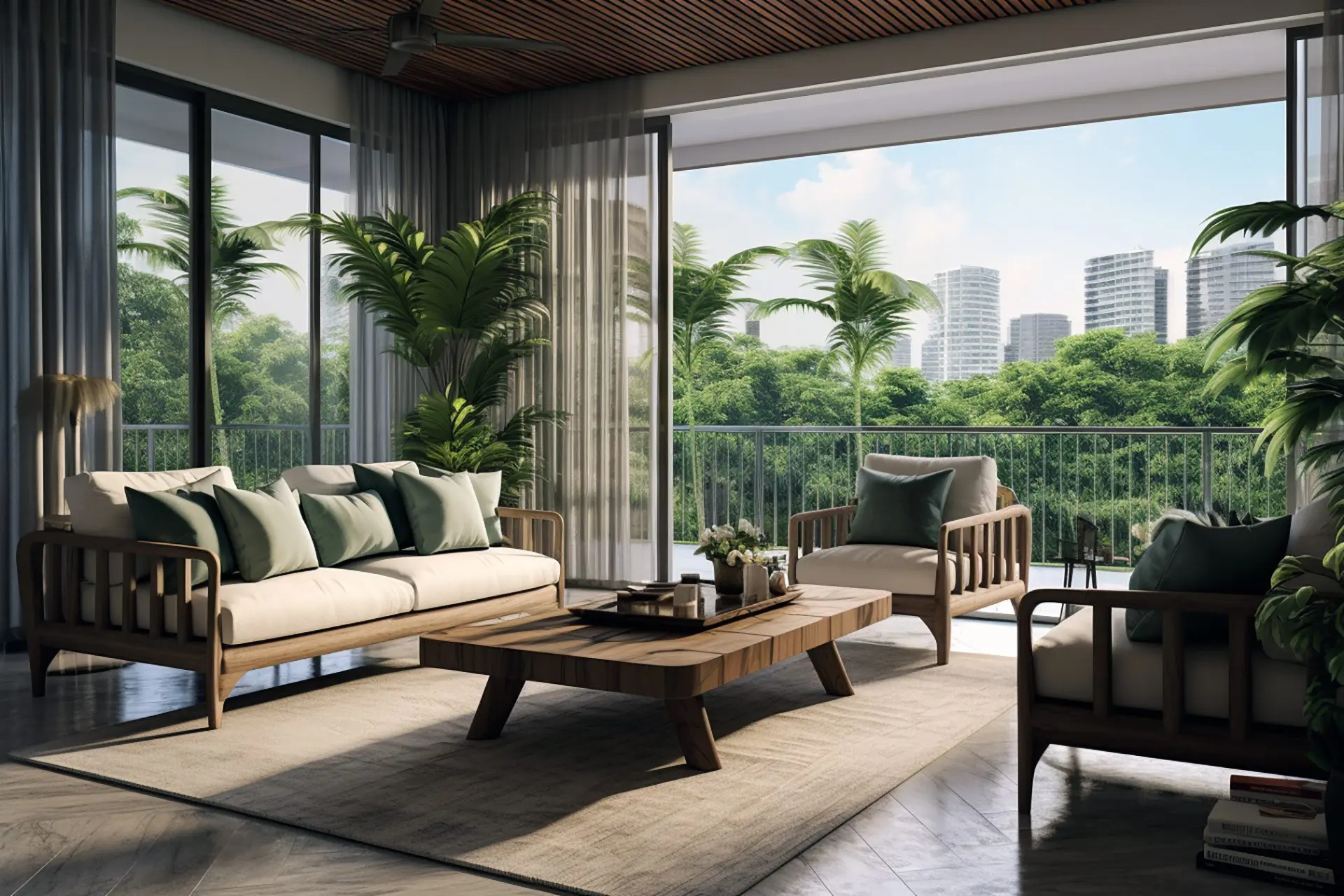 An artful portrayal of a living room interior, unfolding a visual passage into the verdant, tree-adorned estate of Watten residences for sale.
The official launch price for the Watten House freehold property is still under wraps, as developers often unveil this critical information at the eleventh hour, with the revelation set for later this month. Watten House, borne from one of the most significant residential en bloc collective sales in 2021, is a venture between the UOL Group and Singapore Land Group, backed by a hefty $550.8 million investment. 
Positioned at the heart of the Bukit Timah locale and surrounded by Good Class Bungalows and landed properties, it presents a rare opportunity for long-term investment. The Urban Redevelopment Agency (URA) reports that the average price per square foot (psf) for resale properties at The Shelford, a nearby freehold property built in 2005, is $2,226.14.
* URA Private Residential Property Transactions data
And then there's Adams Park Condominium, completed in 2004, currently fetching an average resale price of $2,005.65 psf.

* URA Private Residential Property Transactions data
But considering the land cost, the Watten House price would be roughly $2,692 psf, estimating a 15 to 20% increase in breakeven equates to approximately $3,095 to $3,230 psf, respectively.
The range is a reasonable price, especially when compared to the new sale price of D11 private homes (excluding landed and ECs) through the past decade, which increased by 49% in the past decade from $1,989 psf to $2,961 psf in 2023.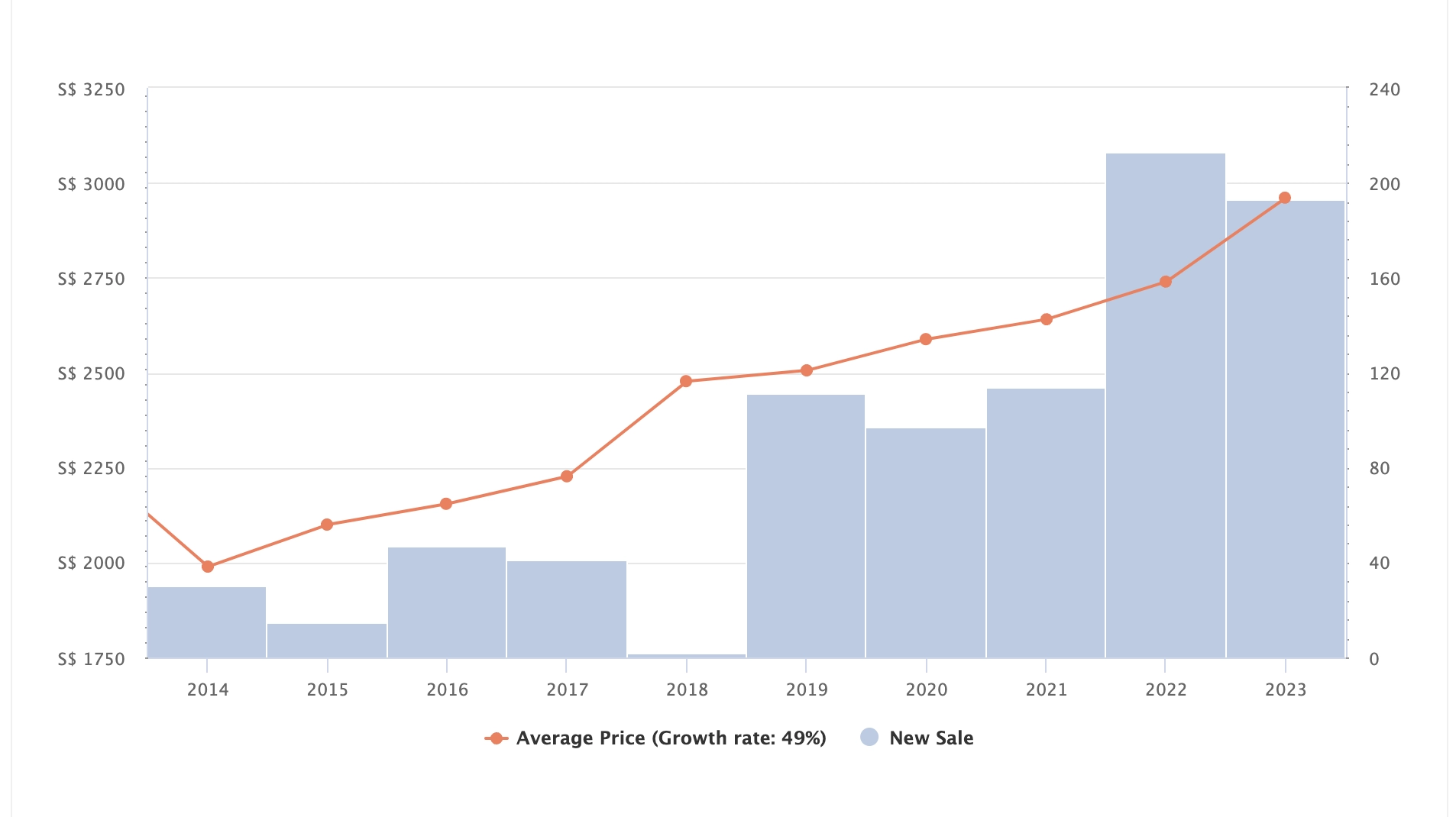 However, prospective buyers will have to wait a couple more weeks until the official launch date to see the floor plans and final pricing, as they are still pending approval from the URA.
Watten House presents a promising long-term investment for those considering a purchase for their future residence. The scarcity of condos in the area ensures a constant demand. Historical transaction data in this locale indicates a steady appreciation in value, making the price for the Watten House residences a solid investment case.
Keep an eye out for our upcoming updates on Watten House. While you wait, feel free to contact us below if you're eager to be among the first to preview this Watten Estate residential property.