HNW Lured to Buy Sentosa Cove Condos with Coastal Serene Views
Have you ever dreamed of finding a property in a setting that feels like you're in permanent vacation mode? Well, these Sentosa condos for sale hit all the right spots for those who have, with 10 luxury condo property developments fringing the China Sea in one of Singapore's most exclusive neighbourhoods, Sentosa Cove.
These high-end residential developments are located within the private gated community just a 15-minute drive from the Central Business District. The secure seaside neighbourhood offers some of the country's more serene views from luxe condos on 99-year leasehold tenures. 
Sentosa Cove has exhibited a surge in median per sqft (psf) prices for non-landed properties, with a 29.77% increase from $1,555 in 2021 to $2,018 in 2022. 
In H2 2022, Sentosa Cove condos for sale witnessed a remarkable 85% growth, with 74 units sold compared to 40 in the first half, indicating growing investors' interests. Furthermore, the transaction value more than doubled during this period, reaching $357.6 million, a significant rise from $159.8 million in the prior half of the year. 
Sentosa Cove Condos Top List of Modern Living
Sentosa's condos carve out a niche of enduring and exquisitely refined sanctuaries. Marked by their undeniable modern appeal, each condo for sale in Sentosa is a seamless blend of sophistication and tropical design. A stroll through these addresses reveals a world where privacy meets serenity, offering retreats where luxury is profoundly experienced.
Here are some of our picks of top condos for sale in Sentosa from the lowest starting asking price to the highest:
10. The Berth by The Cove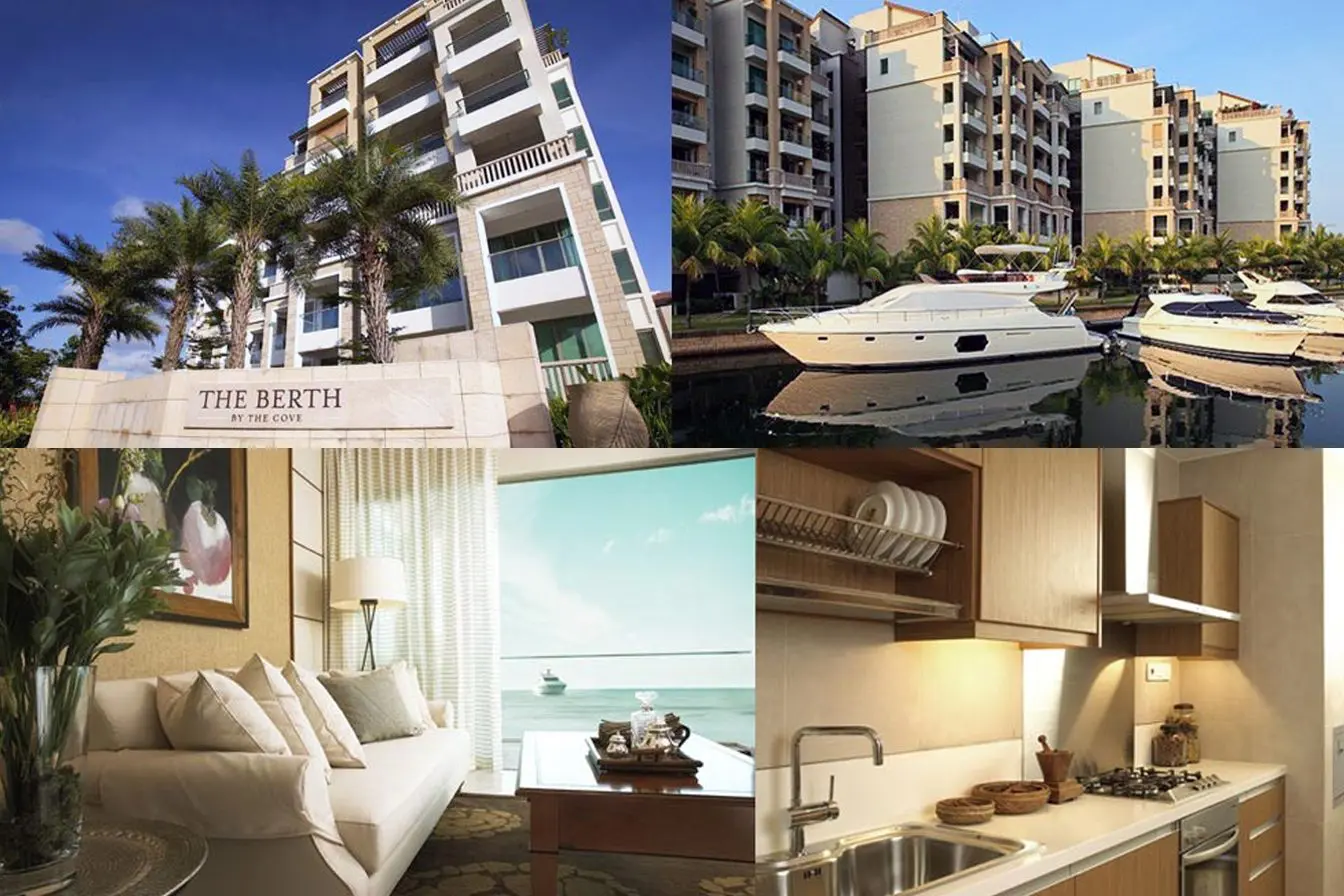 The Berth by The Cove is a collection of 200 thoughtfully designed residences, each strategically positioned to capture breathtaking views of the marina and sea. With meticulous attention to detail, this exceptional development offers a diverse selection of 2- to 4-bedroom units, penthouses and a sky villa. The Berth is the first development to offer residents exclusive access to one of 25 private berths, aptly earning its distinguished name.
Starting from S$1.93 million.
9. The Oceanfront @ Sentosa Cove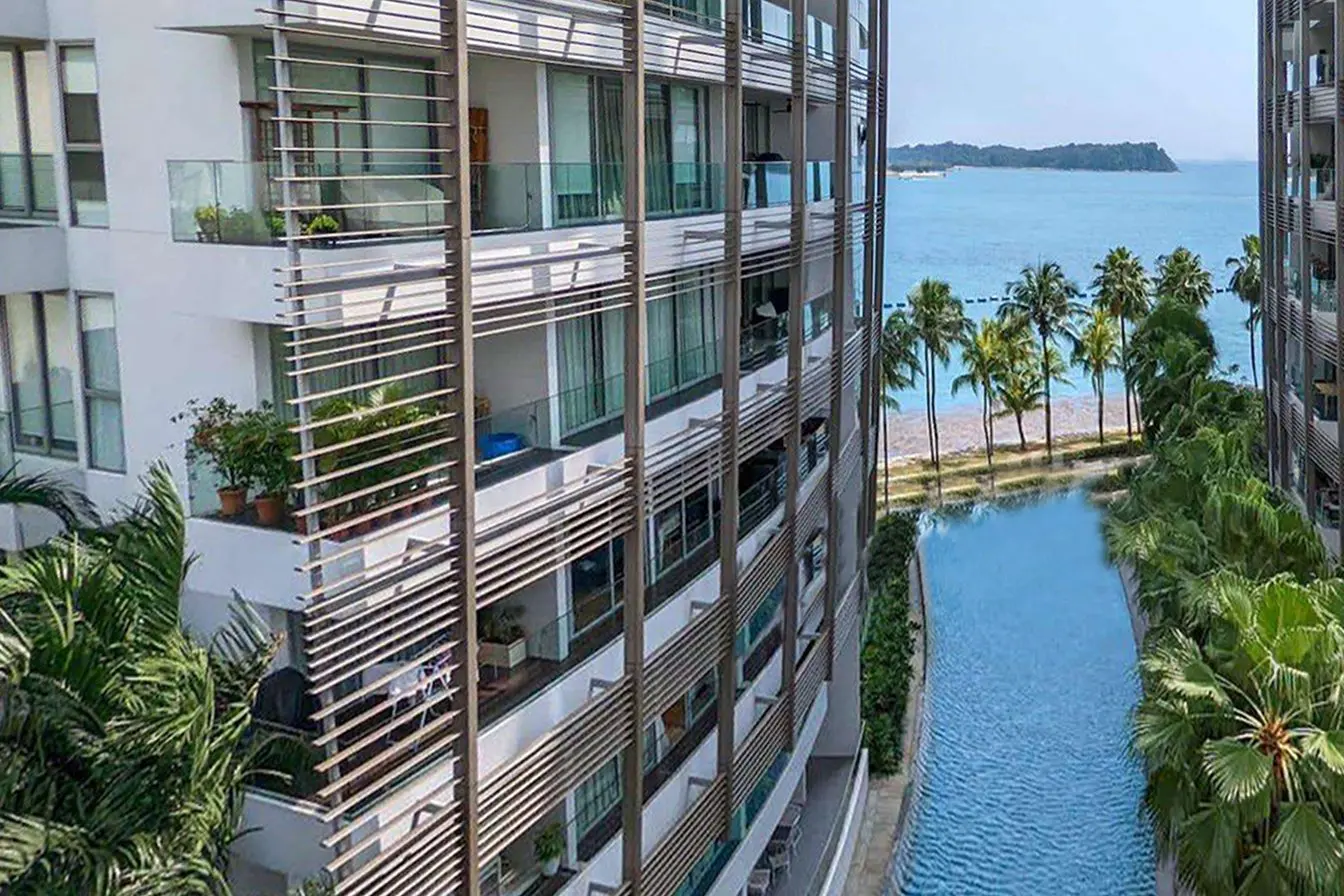 The Oceanfront @ Sentosa Cove is a luxurious condominium that stands tall on the water's edge, offering envy-inducing views and a gateway to the marina. Its sleek 15-storey towers soar above the island's northern tip, providing unobstructed sea views. With 264 residences, including 2- to 4-bedroom layouts and sky suites, the full-height windows in the living and dining areas make the most of the breathtaking scenery. The Sky Villas and Sky Suites boast a roof terrace and private pool, adding to this magnificent residence. Completed in 2010, The Oceanfront offers top-notch facilities, including an infinity lap pool, cabanas, steam baths and barbecue pits.
Starting around S$2.18 million.
8. The Azure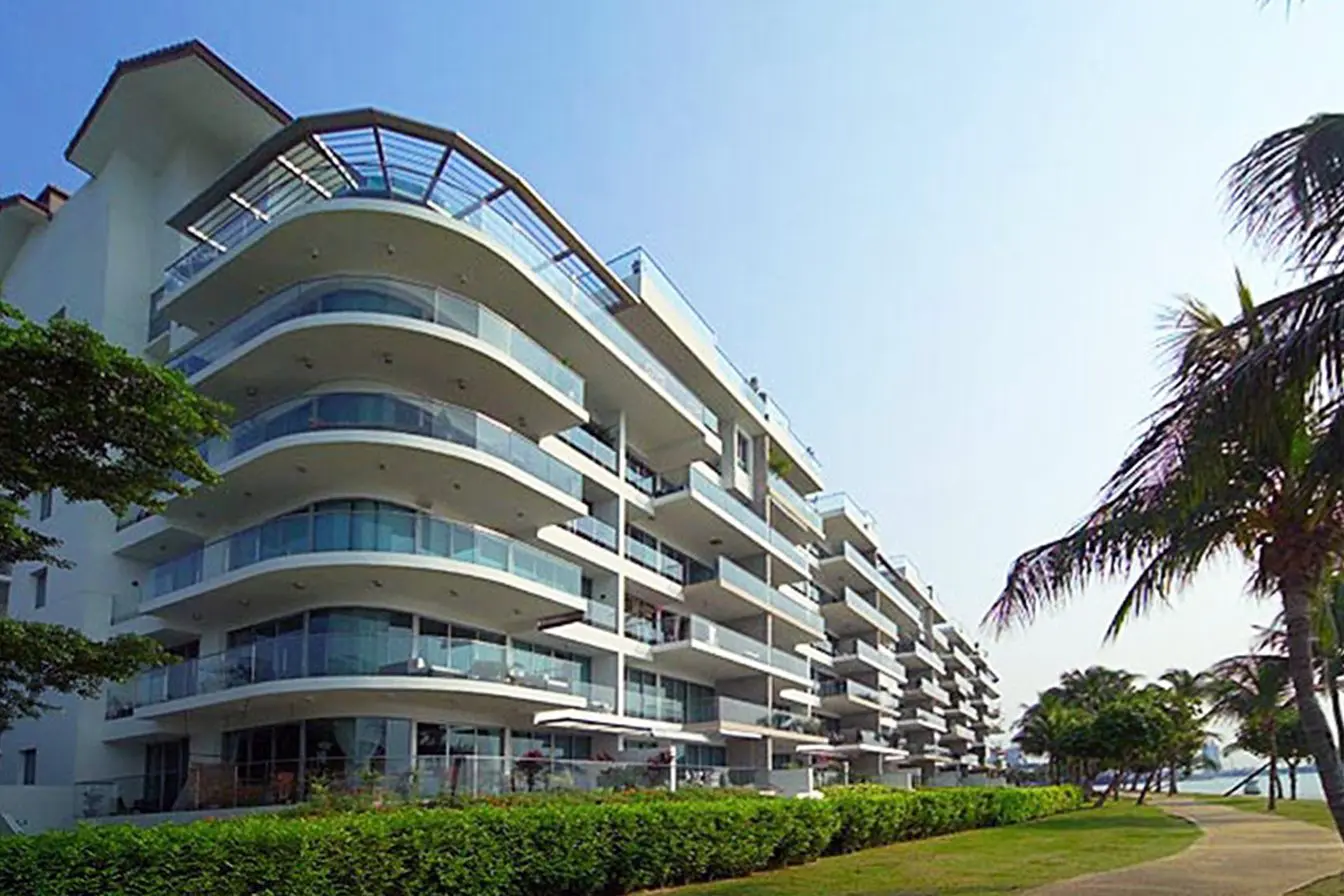 The Azure's main allure is its 270-degree view of the Singapore Strait and the city skyline at the tip of Sentosa. Offering a more affordable condo in Sentosa Cove for sale yet still a luxurious beachfront living option, the development features 116 residences ranging from 2.5- to 4-bedroom units and penthouses. Completed in 2008, each apartment in this seaside development provides a spacious balcony, perfect for embracing the coastal beauty. Additionally, residents can enjoy two pools, a gymnasium, 24/7 security and beautifully landscaped surroundings.
Starting around S$2.88 million.
7. The Residences at W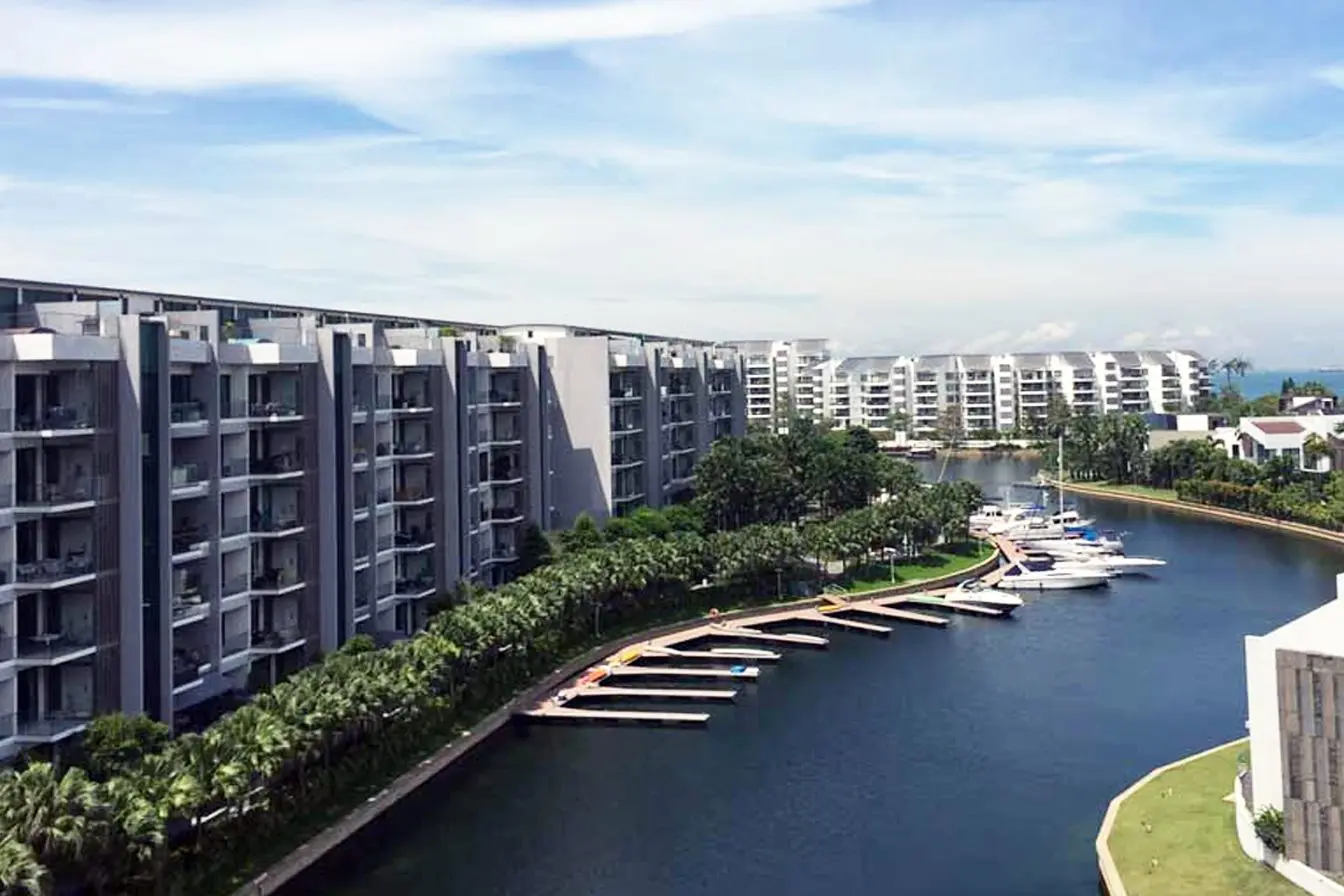 The Residences at W, completed in 2010, offer premium resort-style living with 34 private berths and 228 luxurious residences, making it a premiere Sentosa condo for sale. The signature concierge service treats residents like royalty in the 2- to 4-bedroom layouts and penthouse units. The ultra-chic W Hotels brand adds glamour to this waterfront stretch, adjacent to the Quayside Isle boardwalk featuring retail, restaurants and bars. The boldly luxurious apartments have stunning views across the Marina and waterway.
Starting from S$3.2 million.
6. Cape Royale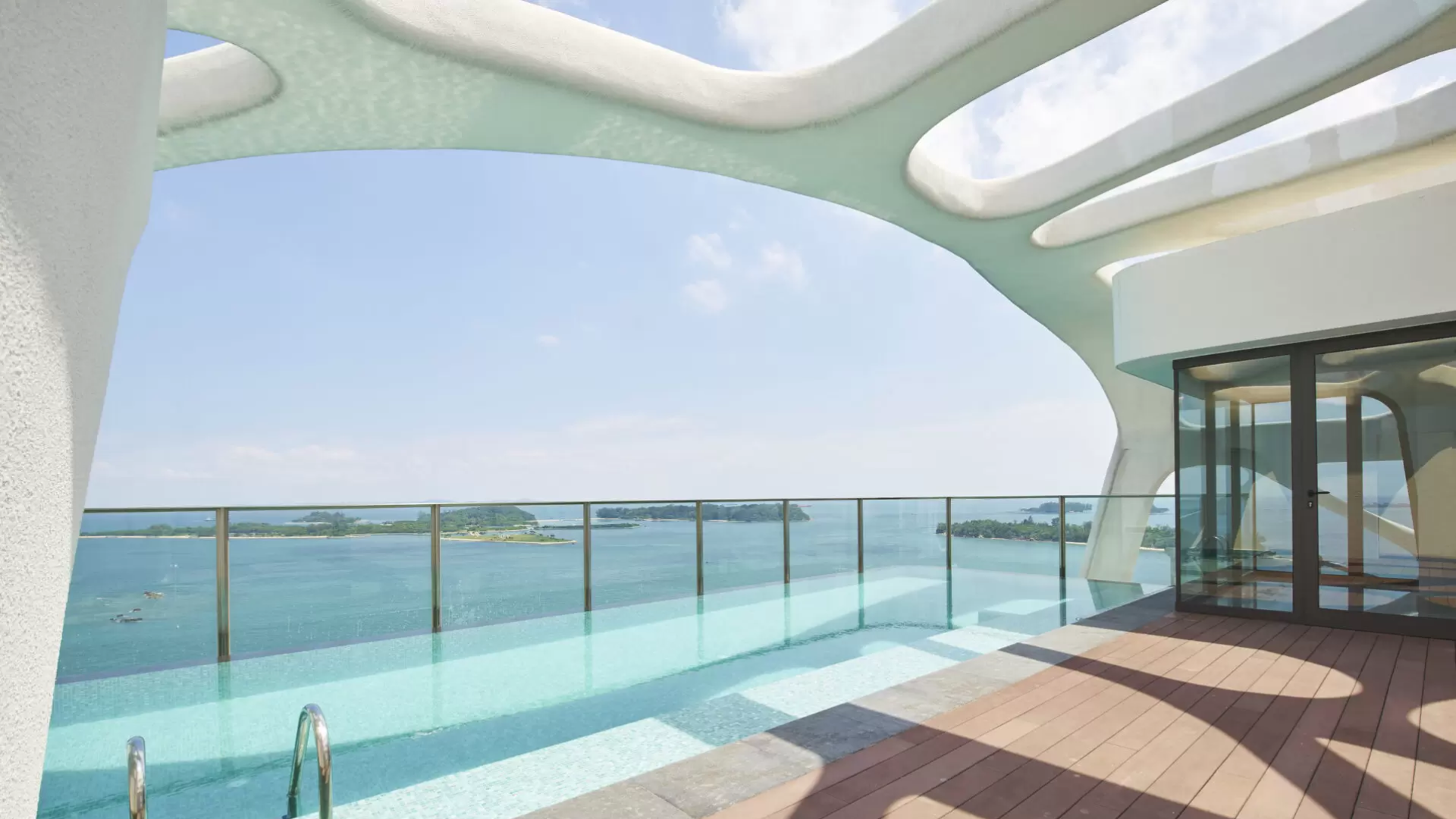 Cape Royale condo's 20-storey is an impeccable property mix comprising 302 exquisite residences ranging from 3- to 4-bedroom units and luxurious penthouses. This development with impressive vistas was completed in 2013 and offers residents facilities and amenities galore, including private marinas, lush landscapes, and proximity to dining and entertainment venues.
Starting from S$3.33 million.
5. The Coast
The Coast in Sentosa Cove offers a picturesque waterfront lifestyle with the most extensive coastal stretch in the area. This condominium provides stunning waterways and open ocean views, making it an authentic coastal gem. Completed in 2010, The Coast apartments have wave-scalloped balcony ledges, adding charm. With 294 residences, including 3- to 4-bedroom layouts and penthouse units, it offers panoramic views of the Singapore Strait from every apartment, setting it apart from other nearby condos.
Starting around S$3.4 million.
4. Marina Collection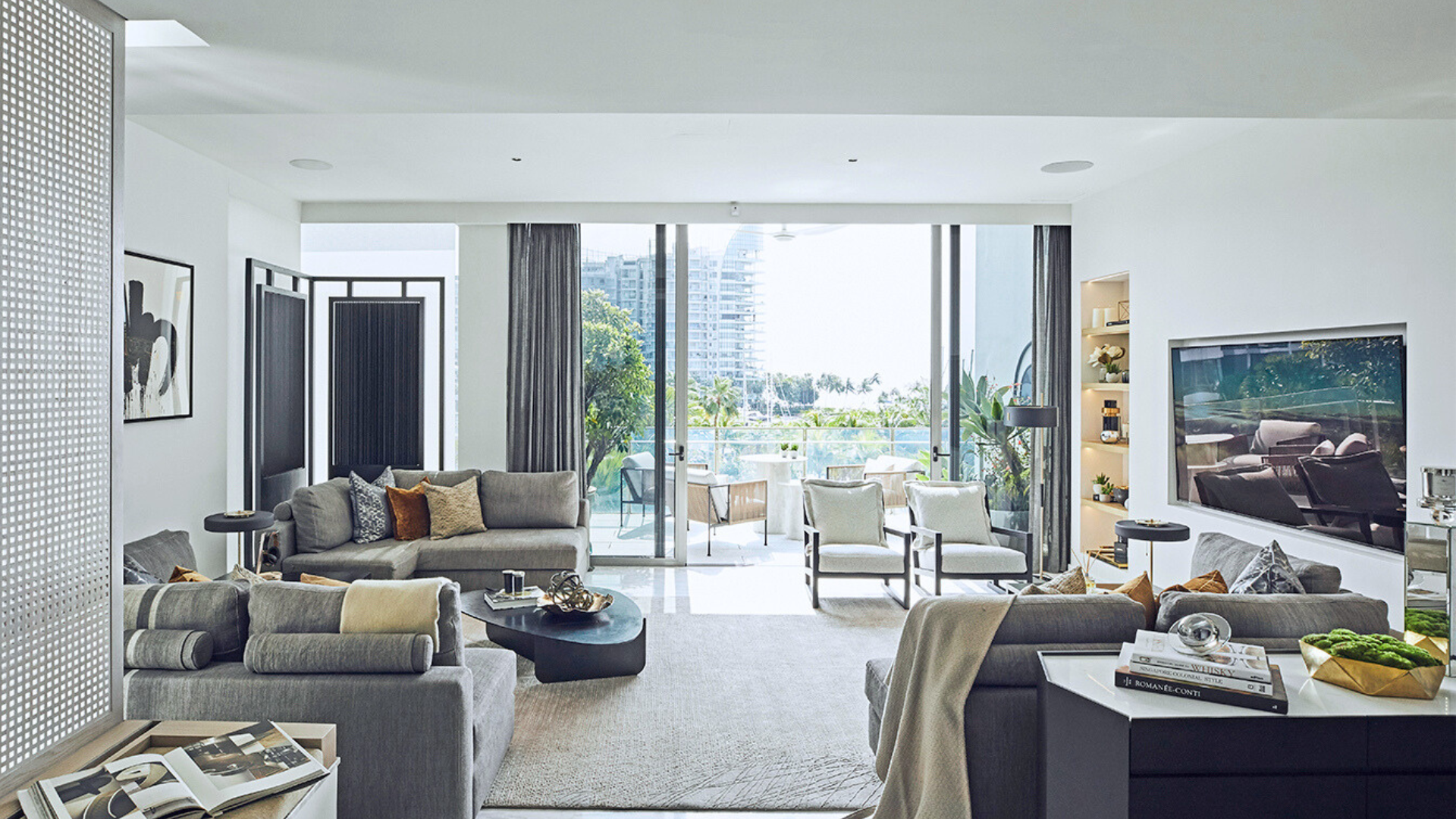 Marina Collection is the ultimate waterfront living for boating enthusiasts. Residents enjoy exclusive One°15 Marina membership, granting access to world-class boating amenities. With 124 meticulously crafted residences, ranging from 3 to 4 bedrooms, this condominium-meets-country-club promises luxury and exclusivity. Completed in 2011, the Marina Collection features top-notch facilities, including 40 private berths, a clubhouse, a lap pool and a serene lily pond. If you're searching for a luxurious designer penthouse, look no further than this exquisite space, masterfully designed by Elliot James Interiors.
3. Turquoise @ Sentosa Cove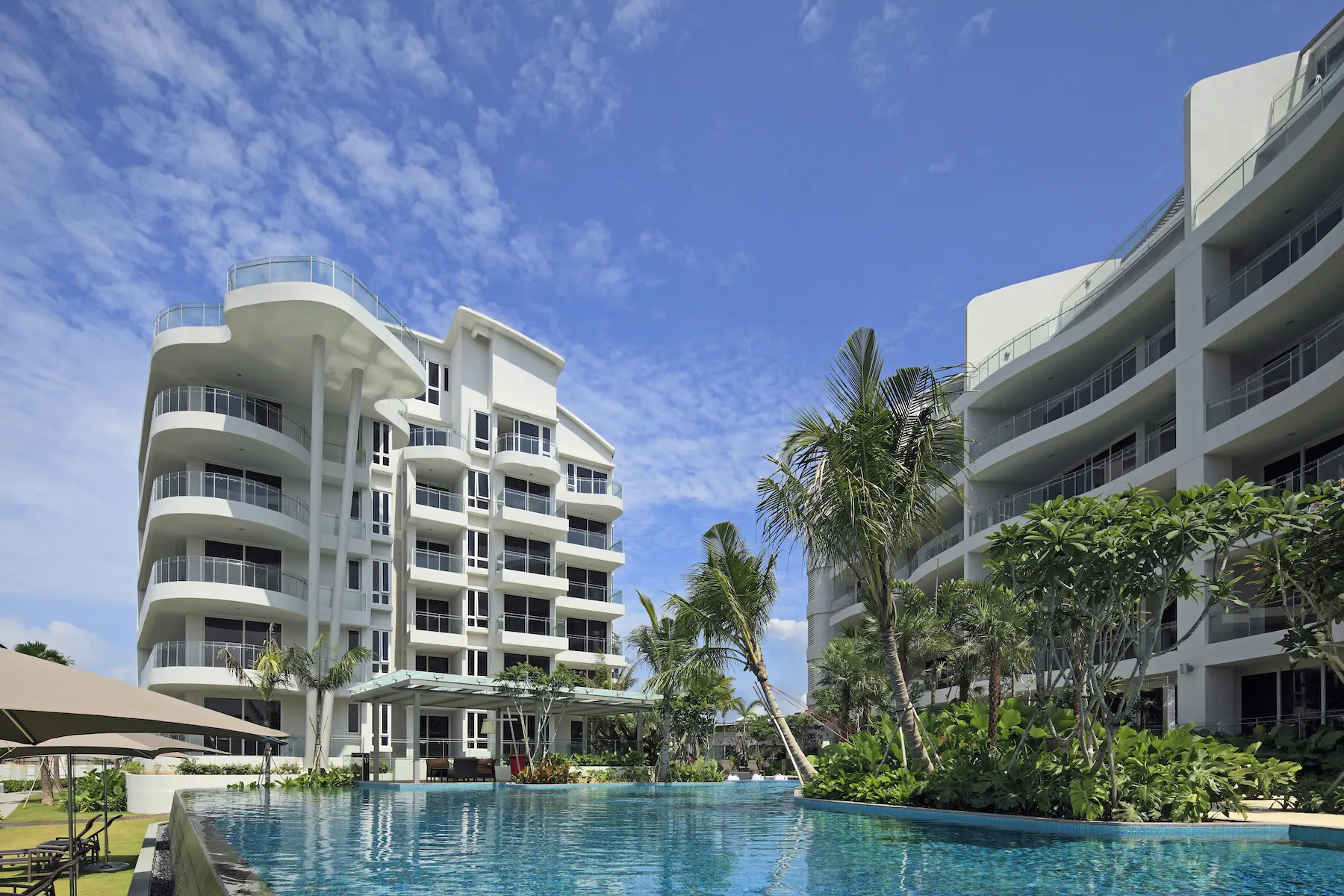 Turquoise @ Sentosa Cove is a tranquil enclave of 91 residences, offering 3 to 4 bedrooms, penthouses and sky villas completed in 2010. Enjoy waterway and golf course views, resort-style living and the convenience of 21 private berths for your yacht or sailboat. The low-rise apartment blocks ensure quiet privacy amidst lush greenery. Relax in the swimming pool with spa pools, utilise the clubhouse and barbecue pits, or let the kids play at the playground. Each apartment has its lift, ensuring comfort and convenience.
Starting from $3.5 million.
2. Seascape
Seascape is a nautical oasis with stunning sea views. Its unique architecture features balconies curving gracefully like ships' prows, ensuring all living rooms and balconies overlook the sea. Each apartment boasts a spacious terrace with sea views and access to two inviting pools, making Seascape a haven for sea lovers. Completed in 2012, the development offers 151 residences, including 3 to 4 bedrooms and penthouses with private pools.
Starting around S$4.3 million.
1. Seven Palms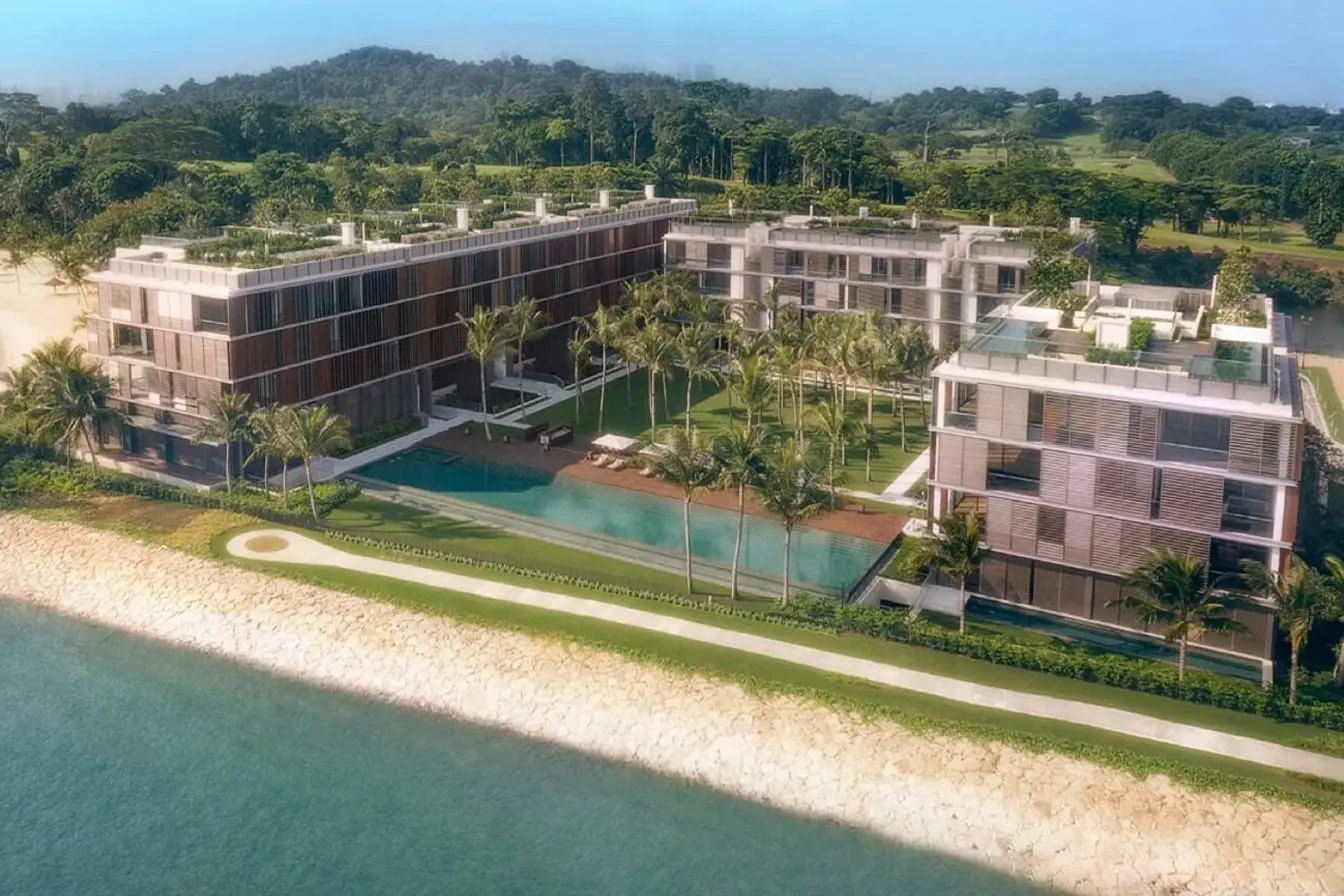 Seven Palms is a limited collection of elegant 3-storey 'beach houses' on the highly sought-after Cove Drive. These 41 Sentosa beachfront condos for sale offer a mix of 3- to 5-bedroom residences, each with a private deck overlooking sand and sea. The ground floor, beachfront apartments, and penthouses with a 10-metre private lap pool. The next-level facilities include a 45-metre infinity-edged swimming pool surrounded by a coconut grove and sundeck, a private beach club featuring a glass-walled gymnasium and an open-air lounge. Notably, Seven Palms was completed in 2010 and received the International Architectural Award from The Australian Institute of Architects International Chapter in 2015.
Starting around S$8.5 million.
Owning a condo in Sentosa Cove is a world-class experience that blends luxury and nature's beauty, offering owners an escape whilst being just moments from the dynamic pulse of the city. Our list of the top elegantly designed condos in Sentosa Cove offers a contemporary finesse catered to the refined tastes of local and international investors. 
---
Read related article:
Discover the Allure of Sentosa Cove Houses & Waterfront Bungalow Living
---
A Mélange of Billionaires, Legacy Families and Worldly Foreigners
Sentosa Cove is rapidly positioning itself as the next haven for home seekers, enticing billionaires and tourists alike. The island just off the island is home to billionaires, superyachts, families, locals and foreigners alike, making it a genuinely melting pot of international culture. 
The limited number of condominiums for sale offer homeowners a quintessential coastal charm that also promises meaningful returns. With its captivating private island communities and luxurious villas, the coastal island offers an alluring alternative for those seeking abundant real estate opportunities with breathtaking views.
To discover more about these coveted Sentosa Cove condominiums for sale and find a property that suits your needs, contact our team at Singapore Luxury Homes. With every amenity at one's fingertips and breathtaking views as a constant backdrop, life at Sentosa Cove is limited to a select few.