'Beyond Brokers' shines a spotlight on the visionary partners of Singapore Luxury Homes. These extraordinary people and interior design studios, like Elliot James Interiors, are not bound by convention, but rather, they boldly challenge vision to redefine the very essence of luxury living spaces.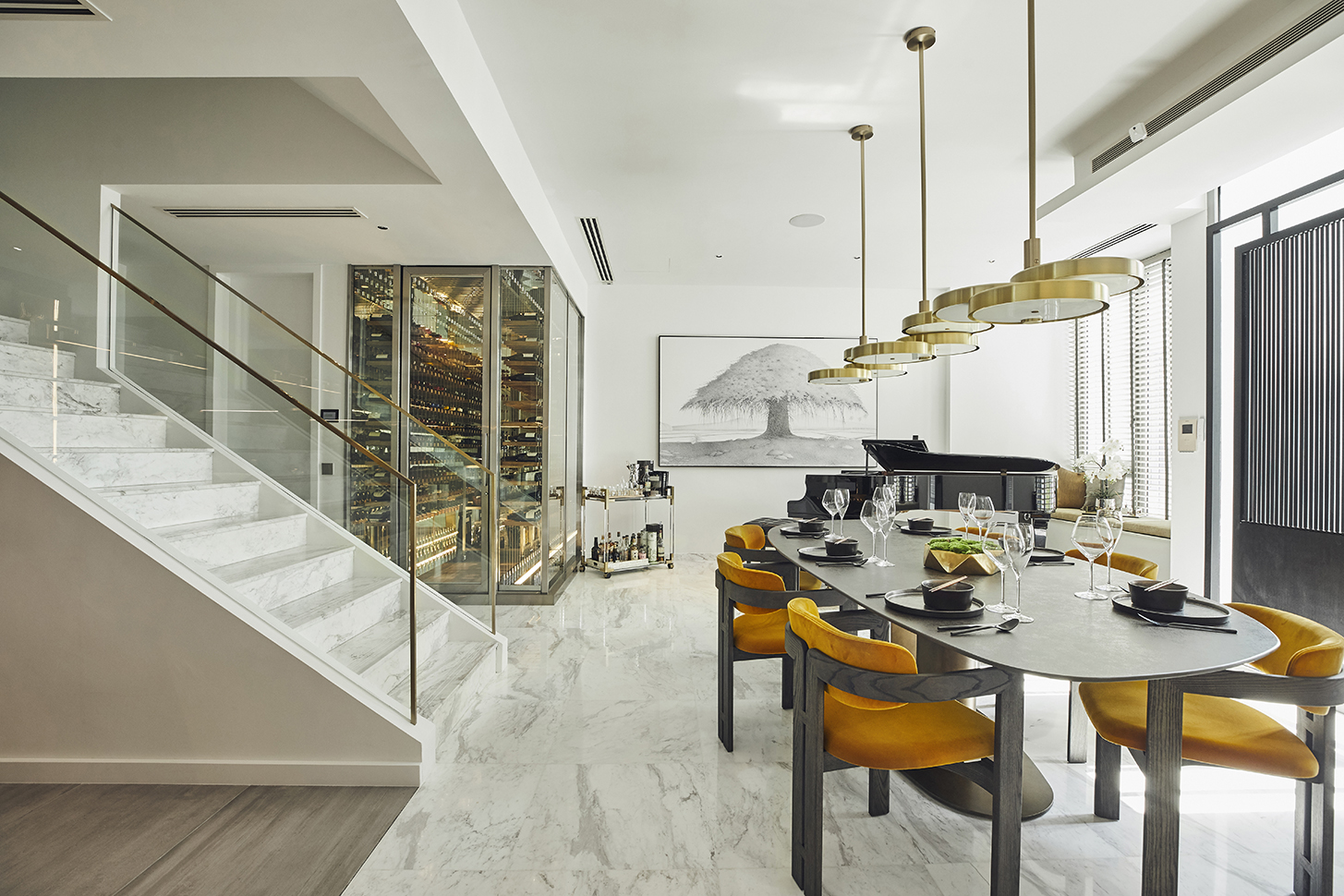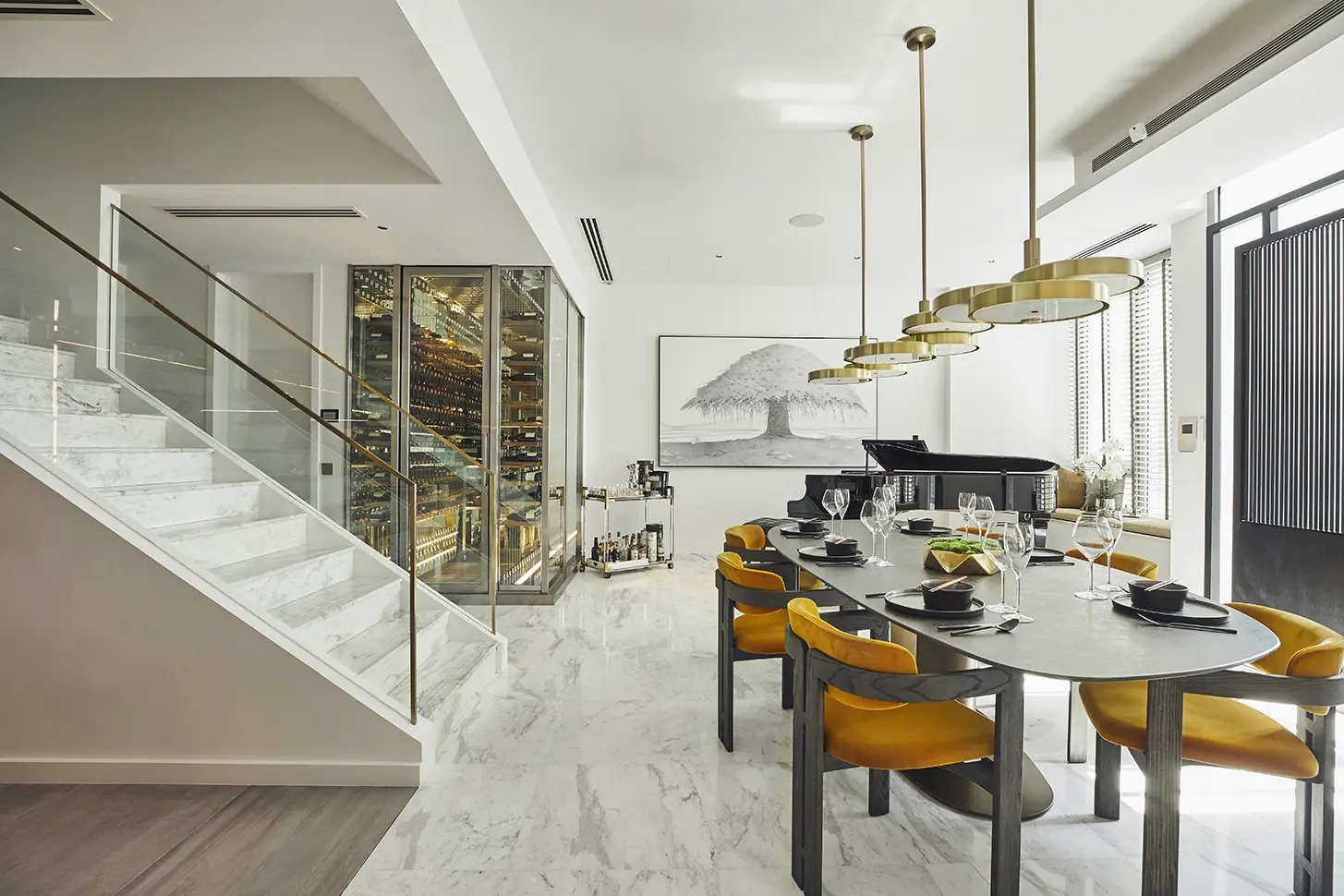 The dining room and wine room from the Marina Collection penthouse design by Elliot James features stunning Gallotti & Radice dining chairs and a completely bespoke wine room.
Design studio Elliot James Interiors design studio has earned a reputation for creating dazzling designs filtered through a contemporary sense of modern elegance and subdued luxury. 
The architecture and interior design studio in Singapore has been featured in countless press and received notable industry accolades, including the 'Interior Design Scheme – Asia Pacific' category at The International Design & Architecture Awards 2021, being named 'The Best Luxury Architect & Interior Design Studio Singapore' at the Luxury Lifestyle Awards 2020, and securing the 'Residential House Under £1m Design' award at the SBID International Design Awards 2018.
While the interior design studio has designed experiential commercial hospitality spaces such as The Macallan Boutique at Raffles Hotel Singapore and the rooftop bar and lounge at the pinnacle of Camden Stables in London, its extensive portfolio of multi-award-winning luxury studio showcases captivating residential designs.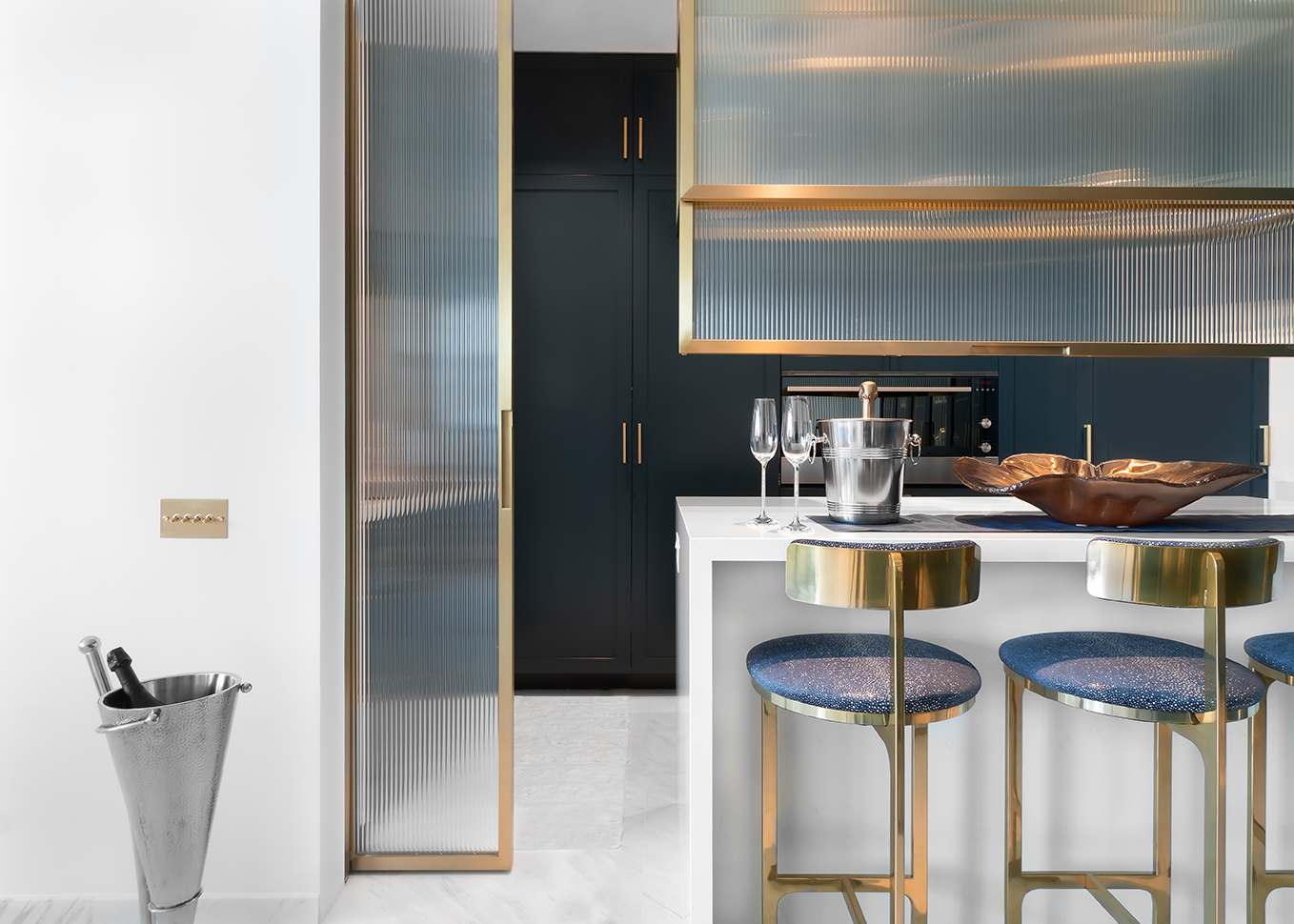 The kitchen features sliding fluted panels at South Beach Singapore, one of Elliot James' award-winning apartments in Singapore, overlooking the Padang and CBD.
Singapore Luxury Homes had the opportunity to catch up with Elliot Barratt, the Founder & CEO and one-half of the dynamic duo behind Elliot James Interiors. In our conversation, we delved into his origins and explored the dynamic relationship that defines his design practice. With their expertise, Barratt and his partner Tom Ryan have established an international reputation for creating luxurious and timeless modern spaces.
Getting to Know Elliot Barratt
What initially sparked your passion for interior design? 
Being from a furniture design background, I was always fascinated to work with the most luxurious and beautiful materials and artisans and see those creations collating in a space where they can all complement each other in different ways.
How do you define your signature style in creating world-class designs?
I would have to say it is an elegant timeless eclecticism. Every space we create is with the idea of ensuring we infuse our clients' personalities and embed their unique life stories within the design through curating unique pieces against a muted, elegant, timeless canvas.
Can you discuss collaborations or partnerships that have influenced your design philosophy and approach?
I have been fortunate to work with some of the most inspiring and talented craftsmen, suppliers, and technicians in their field and I think in interior design you have to have an incredibly broad knowledge base in so many areas. So, I love learning from all these specialists and through doing so, learning techniques, processes and characteristics of the materials. My understanding and appreciation for them are always growing and evolving. 
I personally love stripping things back to their bare essence and purity, and this is always our aim for our projects. We don't need to add excess for the sake of it, fill a space or cover a wall for the sake of it. Instead, the beauty is in its simplicity or its core essence. 
As they say, it is always the simplest form that is the hardest to create.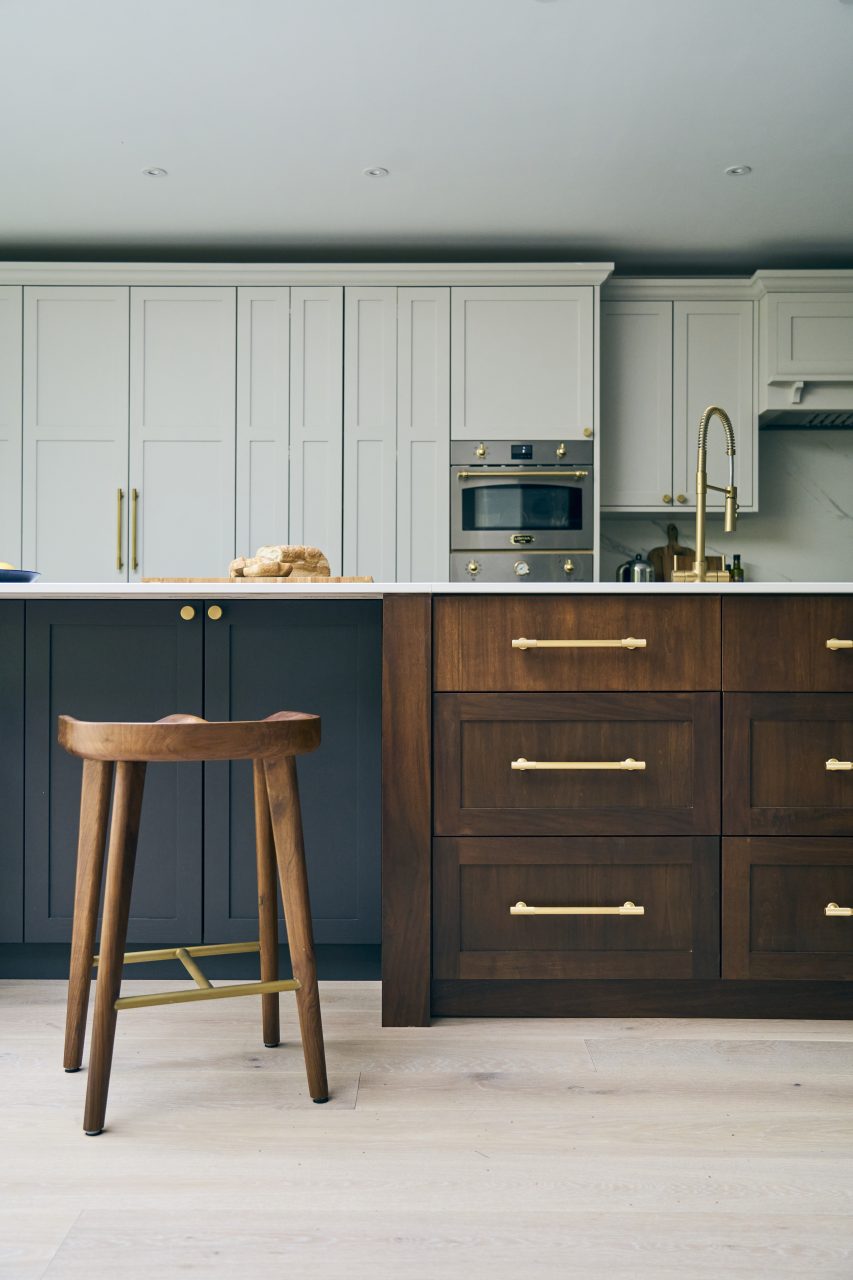 The gorgeous kitchen from Elliot James' Wentworth UK project, the kitchen features an incredible bespoke 5-metre island created from walnut and navy blue cabinets with a Caesarstone worktop.
Philosophy behind Luxury Design
What are the key elements that differentiate luxury interior design from other design approaches?
I think differentiating luxury is about creating a one-off. A design or space that is truly unique to the client, to the location, to the requirements. 
Luxury to us is also about every aspect of the process, not just the design. It is about the level of service we provide and the manner in which we provide it. It is about the quality of the materials and finish we use but also about the quality of the interaction with the pieces themselves and the interior environment itself.  It should all reflect a level of craftsmanship and bespoke tailoring specific to that client.
Can you share some of your most memorable projects that showcase your interior design studio's expertise?
We are just completing one at the moment which is a large penthouse project where we took the entire space back to the concrete slabs and started again. Everything from the positioning of the walls and wiring, down to the personalised settings of the home automation, procured bedding, unique glassware and commissioned artwork has all been carefully planned and chosen by Elliot James to ensure the client's experience on every single level with their new home has been carefully thought out.
What inspires you when conceptualising and creating exceptional designs for high-end clients?
We spend an exhaustive amount of time with our clients to understand their loves, desires, passions etc., and from there, we begin to build a picture or profile of them and draw inspiration from their favourite travel destinations, their choices in music and their favourite foods, and create a direction.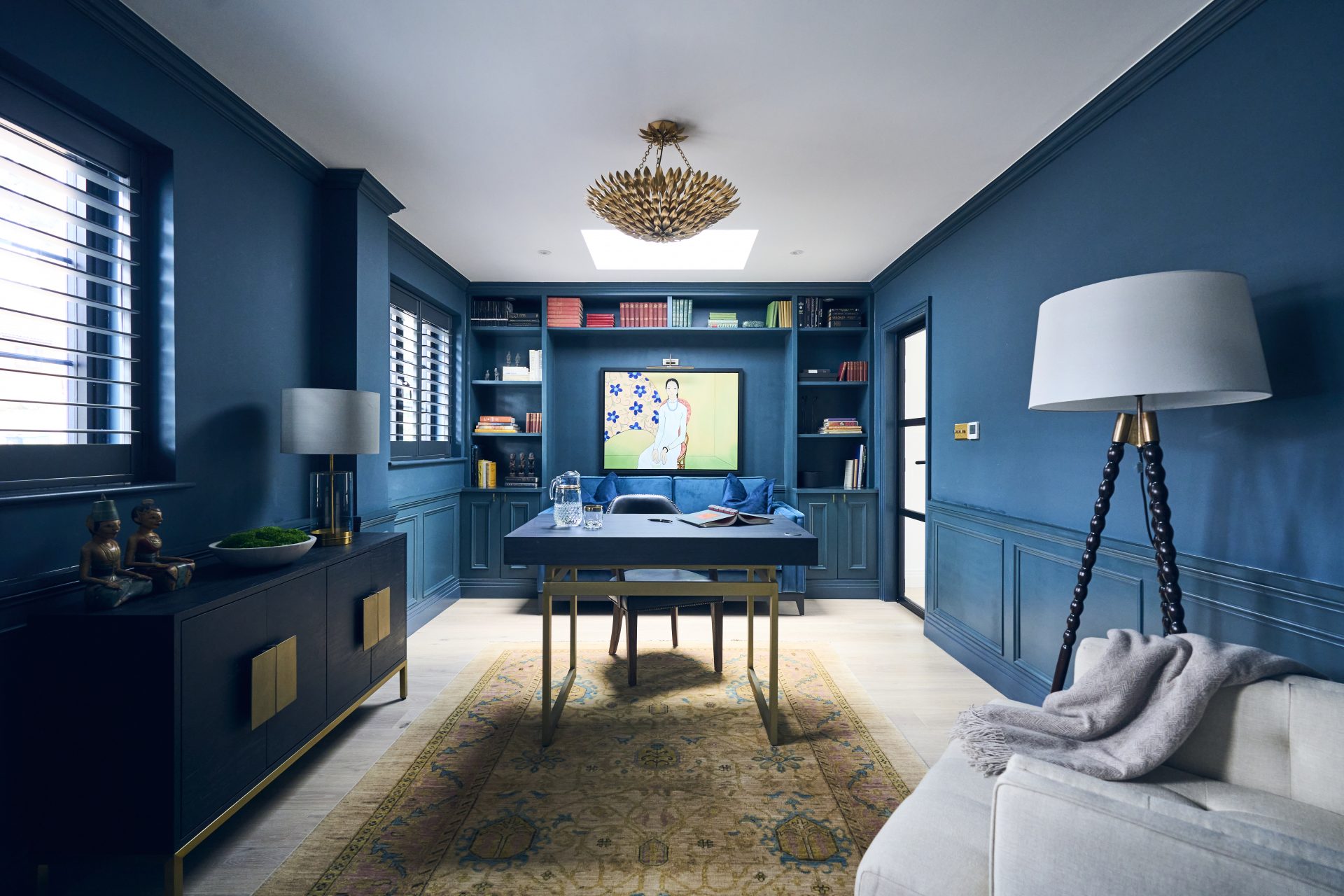 The rich and sumptuous study in Elliot James' Wentworth project, a 6-bed large landed property in Surrey, UK.
How do you strike a balance between functionality and aesthetic appeal in your designs?
We pride ourselves on form AND function. We love to integrate technology within our designs but it should always work perfectly and seamlessly and it is always imperative that it is hidden or integrated as a design feature. 
There is no point having a beautiful piece of furniture if the purpose doesn't align with its functional requirements, so it comes down to making sure we have the priorities for the piece and being strict in our selections.
How do you incorporate art and unique statement pieces into your interior designs? 
We look at interior design like creating a painting. We start with the background or landscape first and then the subject in the foreground becomes the intricate detailing that appears more intense and offers personality.
The Future of Luxury Interior Design
What are your predictions for the future of luxury interior design? Are there any emerging trends or concepts that excite you? 
I think luxury and the future of luxury is about my earlier point on providing something unique and bespoke. A product and level of service that feels very personal and customed specifically for that individual situation, environment or space. 
I think it's about a level of service and how that product, piece or environment serves you on a personal level.
Luxury should also be timeless and its own meaning is interpreted differently for every individual. It's ultimately about identifying what it represents for that person and catering to it. I don't think this should, or would, change.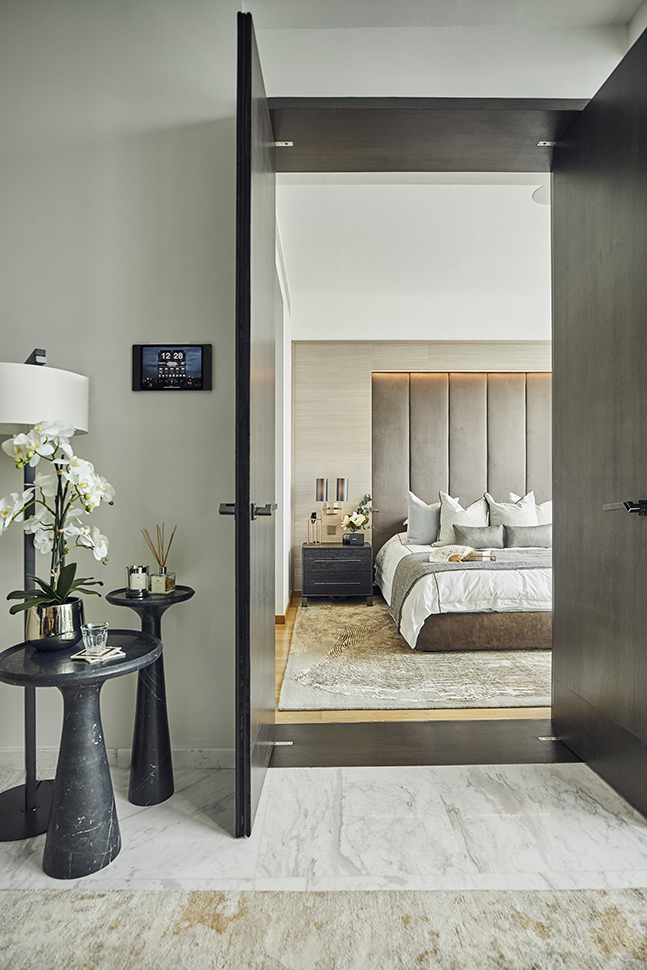 Elliot James' Marina Collection penthouse design on Sentosa Cove features a double-door grand opening after relocating the bedroom entrance.
Can you share any insights into the expansion plans or new ventures for your luxury interior design business in the coming years? 
We recently opened our studio in Dubai and have clients we've worked with around the world now with homes and businesses in that region so it made sense for us to be there. 
With the Middle East experiencing so much growth, expansion and investment of its own, Dubai is now one of the biggest and most affluent real estate markets in the world and therefore clients require our services.
It also allows us to service our clients in Europe and Asia very well by having a studio in the middle. 
The dining space from Elliot James' Ardmore Park project, a Singapore home full of interesting compositions that come harmoniously together.
Quick Questions
What is your favourite cuisine? Italian or Japanese
Do you have any hidden talents?  I used to play ice hockey from a young age, so I am a pretty good ice skater.
What is a fun fact about yourself? I am a twin. My twin brother currently lives in the States.
Are you a morning person or a night owl? Definitely a morning person. I am usually at my most productive early in the morning.
Are you a planner or do you prefer spontaneity? I would say I am reactive? I am not a great planner – if you ask my wife – but I probably react well when needing to be spontaneous.
Thank you, Elliot, for providing us with a deeper understanding of Elliot James Interiors' distinctive approach to interior design.
Beyond Brokers Series
When you choose Singapore Luxury Homes, you gain access to our extensive global network and a curated selection of exclusive partners, including award-winning interior design studios and trusted private wealth advisors worldwide. As a top 1% property team, we are fully invested in your real estate journey. We understand that buying a home is a deeply personal experience, and our dedicated team of real estate consultants in Singapore is committed to tailoring our services to meet your personal needs.