Sentosa Cove Resort Living Lifestyle
Buyers worldwide are increasingly focused on how a property can enrich their lifestyle and ease the hustle and bustle of daily life. Casting aside the trappings of city life is a big part of the appeal of tropical resort-style living, Sentosa Cove houses offer residents access to a range of amenities, restaurants and recreational activities. Plus, with its proximity to Singapore's CBD, the island off the island has become the picturesque place to call home. 
Sentosa Cove is home to upscale waterfront bungalows, landed property and resort-style condominiums with scenic views of the sea or nearby golf courses, private clubs and golf resorts and Michelin-star restaurants. Sentosa Cove properties are highly sought after by affluent families looking for private waterfront sanctuaries. Many of the Sentosa properties come with private berths and direct sea access, making them an idyllic haven for yacht owners and water enthusiasts.
The allure of Sentosa Cove's spacious and highly sought-after properties attracts elite clientele and offers an opportunity for local and foreign investors alike, as foreigners can buy a landed house in this incredibly exclusive island location. Our Sentosa Cove luxury property agents specialise in the landed property market within this captivating waterfront community. Read on to explore the unique highlights of the different neighbourhoods.
The North and South Coves
Perched along the sparkling coastline, the North and South Coves stand as a testament to picturesque living and waterfront charm. These two areas in the gated Sentosa community treat its residents to stunning views of the glistening sea and the mesmerising marina. 
The North Cove features Coral Island, Paradise Island, and Treasure Island, home to an enclave of 200+ bungalows and landed properties and approximately 1,300 prime condominiums, each exuding refined elegance and unparalleled comfort. The Azure, The Berth by the Cove, The Coast @ Sentosa Cove and The Oceanfront @ Sentosa are among the prestigious addresses here. 
The South Cove includes Pearl Island and Sandy Island, with more than 800 condominium units, each thoughtfully designed to offer residents a harmonious blend of comfort and views. Seven Palms, Seascape, The Marina Collection, Turquoise, and Cape Royale are the quintessence of luxury waterfront living.
But the appeal of living in a Sentosa Cove house extends beyond its captivating surroundings to the array of exclusive amenities and recreational activities available. Whether taking a stroll with the family along the picturesque promenade, experiencing the sanctuary of a yacht at the marina or spending a leisurely morning playing 18 holes, Sentosa Cove offers a myriad of experiences that cater to every lifestyle.
Sentosa Cove Landed Properties
Sentosa, a renowned tourist haven, offers an array of amenities and attractions from splendid man-made beaches to top-notch restaurants and bars and championship golf courses. But beyond its tourist allure lies the hidden gems of Sentosa houses and luxurious condominiums amidst the backdrop of a tropical paradise.
The residential marina community of around 2,100 homes, of which slightly more than 16% are landed properties, are all held under 99-year leasehold tenures. Remarkably, Sentosa Cove is the only location in Singapore where non-Singapore permanent residents, including foreigners, can acquire landed properties without approval from the Land Dealings Approval Unit. 
Interestingly, around 60% of buyers of Sentosa Cove homes hail from foreign countries, particularly from various Asian nations. Foreigners end up building close-knit, vibrant communities where their families and friends often come together.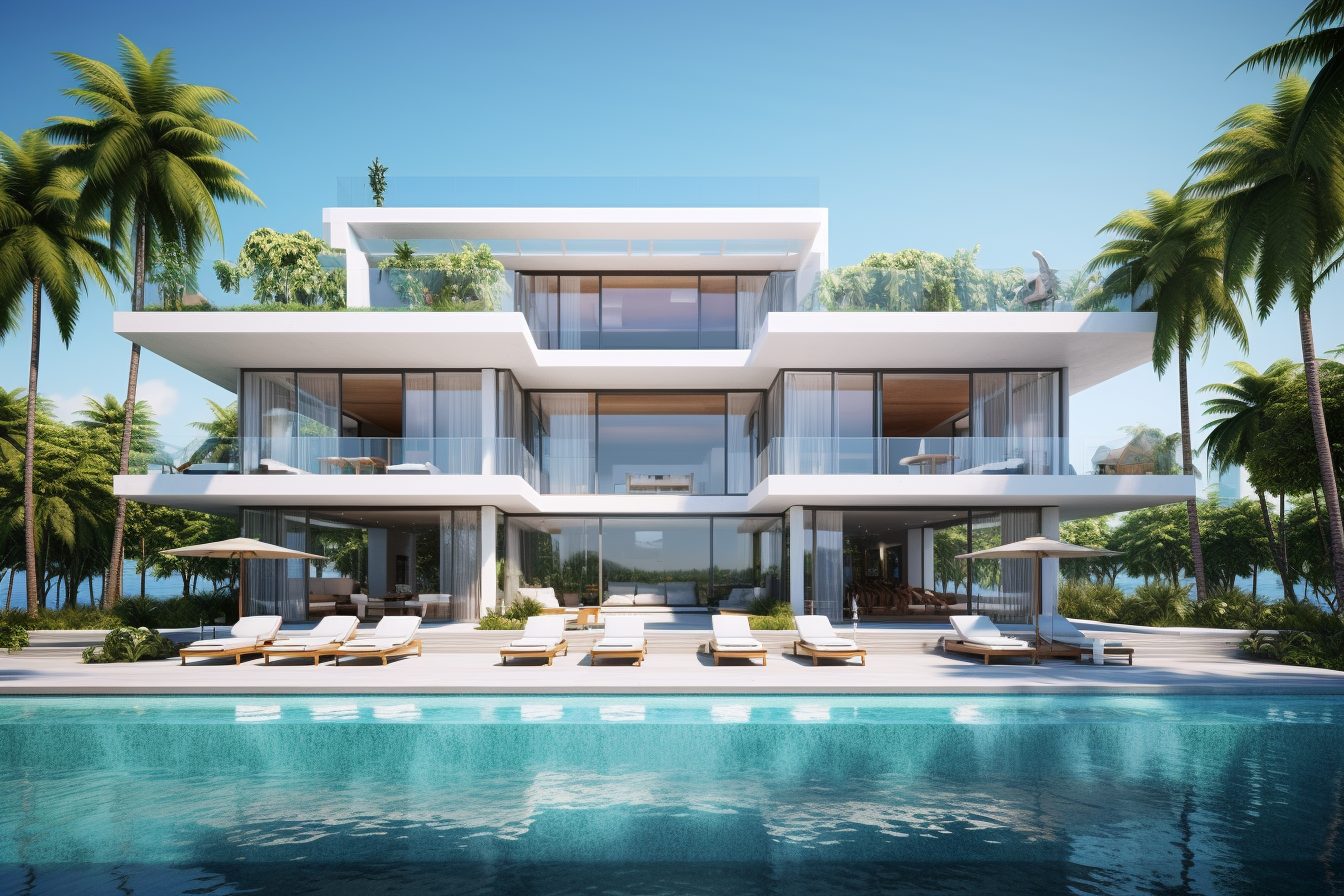 Sentosa Cove's bungalows are divided into distinct neighbourhoods, each exuding its own charm and character:
Coral Island

presents a rare opportunity to own a slice of paradise in one of Singapore's most sought-after addresses. A tranquil oasis within Sentosa Cove, the area features 21 modern villas, each with 5 bedrooms that range from 7,000 to 10,000 sqft. Surrounded by lush greenery and kissed by refreshing sea breezes, these properties offer the best in contemporary coastal living. Villas start from S$11.8 million.
Cove Drive's

lush and palmy enclave hosts a remarkable collection of bungalows, villas, and condos, featuring some of the most unique and eccentric architectural designs, such as Egyptian or yacht house themes overlooking the scenic Singapore Strait. With

Sentosa Cove prices

on this street ranging from S$17 million to well over $80 million, this neighbourhood is home to billionaires.
Kasara on the Lake

offers an enchanting retreat nestled within a serene bamboo forest where intimate living harmonises with nature's beauty. This secluded collection of 13 villas graces the glimmering lake, providing breathtaking views that will leave you in awe of the surroundings. Each villa, priced from S$19 million, boasts a generous built-up area ranging from 10,000 to more than 17,000 sqft, with unique style.
Ocean Drive's

neighbourly warmth is home to some of the most sought-after and largest

Sentosa homes

, with spacious family bungalows from 18,000 to a whopping 40,000 sqft of living space set against views of the water's horizon. Privacy is a hallmark of this community with large land sizes and prices fetching upwards of S$35 million and more.
Paradise Island houses a selection of waterfront villas that redefine the meaning of coastal living. Each of the 29 villas offers a blend of contemporary design and timeless elegance, complemented by breathtaking views of the tranquil sea. The S$12.5 million properties span 8,000 to 12,000 sqft, featuring 5 spacious bedrooms, bespoke interiors, and amenities. With private berths for yachts and round-the-clock security, these residences provide the ultimate sanctuary for those seeking privacy and exclusivity.
Pearl Island is not just a residential area, it is an escape into a world of paradise, just moments away from the city. With a 99-year leasehold, the prices for houses in this Sentosa Cove neighbourhood range approximately between S$14.3 million and S$25.5 million, offering 8,000 to 11,000 sqft of space. These Sentosa Cove houses represent the ultimate crest of luxurious living, with private boat berths to round-the-clock security.
Sandy Island

is an extraordinary collection of 18 waterfront villas — an oasis of tranquillity and privacy. Created by renowned architect Claudio Silvestrin and acclaimed landscape designer Jamie Durie, these exclusive

Sentosa properties for sale

range from 7,500 to 9,200 sqft, and start at S$14 million. They harmoniously blend with the lush rainforest surroundings, creating the warmth of nature's embrace.
Treasure Island

sports a limited collection of 19 exclusive 2-storey bungalows with private berths and a pool. This island sanctuary of homes harmoniously brings private seafront views directly into your

Sentosa property

. Landed bungalows in this secluded residential haven start at S$19 million. 
The Green Collection

is an exclusive enclave of 20 meticulously crafted villas, each offering 6,000 sqft and more of living space surrounded by green knolls of one of Sentosa's two international championship golf courses. Sentosa's first strata landed development, bungalows start from S$22 million.
Sentosa Cove stands as a true gem within Singapore's landed homes real estate market. As a playground for billionaires, the small community has rightfully earned its reputation as a haven for the elite, where Bentleys and bungalows seamlessly play with breathtaking coastal beauty as the backdrop.
Can Foreigners Buy a
Landed Property in Sentosa
?
Sentosa Cove proves to be an attractive property investment for foreigners looking to own a bungalow with ample space. As the only place where non-permanent residents can buy a bungalow on 99-year lease terms, the appeal of Sentosa's landed homes for foreigners offers a rare opportunity for ownership. 
In H2 2022, bungalow sales in Sentosa Cove experienced a remarkable surge, increasing by nearly 60% in value to reach $207.5 million. During this period, a total of 10 units were sold, indicating a robust demand for premium properties in this sought-after location.
Despite a slowdown in Good Class Bungalow (GCB) transaction volumes in 2022, in 1H 2023, 8 bungalow deals within GCB areas combined transaction value of S$207.8 million, as reported by the PropNex GCB & Prestige Landed report.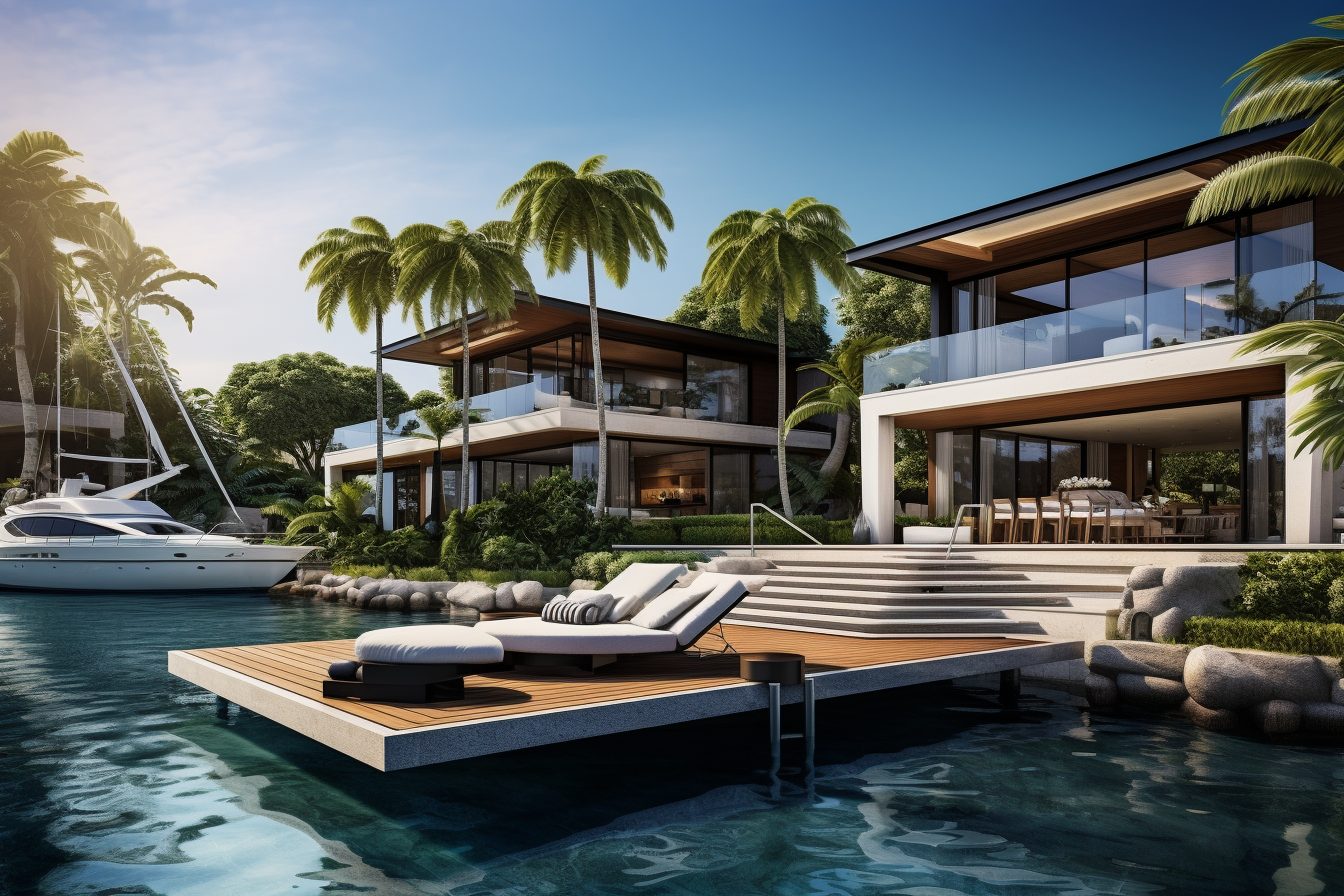 Doing the maths, you'll discover the cost of having an equal — if not better — standard of living on Sentosa with refreshing sea breezes, scenic sea horizon views and the embrace of nature are well worth considering.
It's no wonder that with the limited availability of 350 landed properties in Sentosa, foreigners are flocking to this tropical resort lifestyle. Owning property in Sentosa Cove grants access to a private gated community, international golf courses, marinas, private berths, and breathtaking views of the South China Sea.
Foreign buyers are allowed to purchase one detached house for their own use, making it an ideal option for personal retreats. Rental opportunities are also attractive, drawing interest from Singaporean investors looking to lease out residences. Additionally, foreign purchasers can apply for a Long-Term Social Visit Pass under the Sentosa Cove property scheme, facilitating easy entry into Singapore.
Ready to Own a Landed Home in Sentosa Cove?
Sentosa Cove properties, indeed, stand out as a safe investment choice, offering a rare blend of luxury, space and exclusive amenities for global investors. The charm of Sentosa Cove houses knows no bounds, as it continues to attract international buyers seeking an unparalleled blend of breathtaking tropical surroundings and a luxurious waterfront lifestyle for the entire family.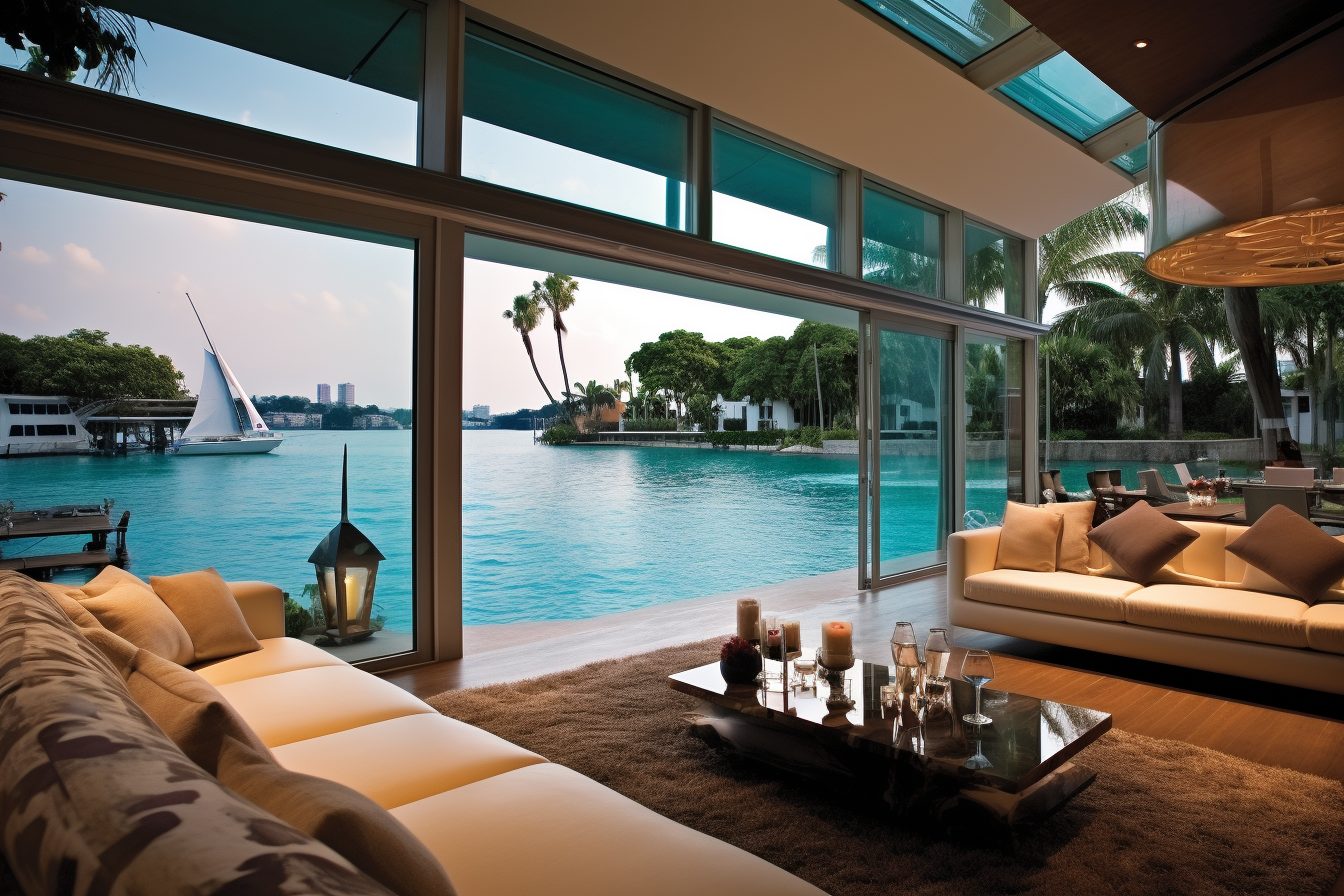 Sunita Gill and Kaizar Karkaria are co-founders of Singapore Luxury Homes (SLH) and a dynamic Sentosa Cove property agent duo specialising in luxury real estate in Singapore. They have decades of experience in real estate and have built a team that understands true luxury is not simply acquiring property, but creating a lifestyle. SLH takes great pride in meticulously crafting a home-buying journey that goes beyond the conventional, completely redefining the real estate experience so that it is personal for you.