From Monaco to Manhattan, penthouses are the crown jewels of any high-rise development, not only because they sit elegantly on the topmost floor and enjoy spectacular 360-degree views of the city.
These luxurious apartments, with their full-length windows and high ceilings, come complete with superior-quality fittings and refined finishes, adding to their high value and appeal. On top of that, the scarcity of such apartments in any city makes the penthouse a much coveted property in any development. Add super penthouses to the mix and the appeal is only magnified, with the likes of multi-millionaires and billionaires happily forking out hundreds of millions of dollars for that gem in the sky.
But where did this whole idea of a penthouse begin?
In the beginning…..
The penthouse made its debut in early 20th century New York. Think The Great Gatsby and the roaring era of the 1920s, as these magnificent apartments perched atop skyscrapers became the focal point of many a lavish soiree among the well-heeled. While the landed gentry enjoyed their traditional position of class and stature on the ground, the sky-high gentry was in a league of their own far up in the clouds.
Not surprisingly, the penthouse made its way around the world and by 1972, Singapore saw its first penthouses perched atop condominiums, as the country's young but growing economy and stable political system started attracting foreign investment. So attractive was the potential for exponential appreciation in property value that entire swathes of land in Districts 9 and 10 were bought up by overseas companies for private development, making the Orchard Road area a hotbed for penthouses until today.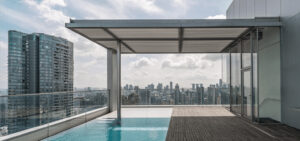 Lifestyle of the rich and famous 
Today, super penthouses take the stage, with a total of 8 of them up for grabs in Singapore, as of September 2022. These luxury homes, according to Kaizar Karkaria of luxury brokerage Singapore Luxury Homes (SLH), are penthouse apartments of a minimum 10,000 sqft in area and private lift access. With such a copious amount of space, expect these units to include private rooftop pools and terraces, entertainment space, office space as well as wellness and private spa facilities.
Those in the central districts are the most sought-after, offering unbeatable views of the city skyline, sea and horizon, while fetching some of the highest prices in real estate.
These top-tier penthouses attract the likes of British billionaire James Dyson (of vacuum cleaner fame) and Eduardo Saverin (Facebook co-founder). For a whopping $73.8 million, Dyson bagged the super penthouse at Wallich Residence in July 2019, a triplex totaling 21,000 square feet. A year later, he sold it at a loss to Indonesian-born tycoon Leo Koguan, cutting his losses as the pandemic hit. Not far behind him is Saverin, who owns the Sculptura Ardmore duplex at 10,300 square feet, purchased in 2017 for $60 million.
Even earlier than these two, in 2015, was Sun Tongyu of Alibaba fame, who forked out a cool $51 million for Le Nouvel Ardmore's 12,875 sqft penthouse.
Needless to say, the sales of penthouses always make the news in Singapore. In October 2021, Les Maisons Nassim was sold for $75 million while the very next month, someone dished out $48 million for Canninghill Piers. Pandemic or not, high-end luxury apartments are in demand, with sales nearly doubling year on year in 2021.
The allure of super penthouses
The palatial grandeur of the super penthouse remains an attraction, despite the current global economic downturn, because of their rarity. There can only be so many towers that jut out above the stacks of high rise buildings proliferating the island state – ones that can boast a panoramic view at least.
This explains why luxury apartments still remain one of the most sought-after homes here, high overall quantum notwithstanding. What's more, the sprawling floor space of super penthouses (think duplexes and triplexes) makes bungalow living high above the city a reality, where residents can enjoy being far from the madding crowd while being in the midst of one of the most lively and populated cities in the world. The super penthouse also caters to a particular lifestyle need – that of high-rise living, for which Singapore is so famous. This makes the island nation a sweet spot for foreign investors, who may already own landed properties around the world and are looking instead to secure a slice of the high-rise inner city life here.
Super penthouses also require far less upkeep and maintenance than bungalows, which make them a much more appealing asset for work or pleasure, especially for foreign investors and intrepid travellers.
The wealth of the next generation
Around the world, the number of ultra-high-net-worth individuals (with minimum net assets of US$ 30 million) has increased significantly despite the pandemic.
UHNWIs are also a growing group in Singapore, contributing to investments in the luxury homes sector. According to Managing Director of Knight Frank Singapore, Wendy Tang, Singapore continues to attract such investments due to "its political stability, best-in-class medical infrastructure, and many business-friendly incentives. As a result, more family offices are keen to explore this island-country as a gateway to access Asian investments. There are abundant opportunities available for capital preservation and appreciation."
Thus, despite potential market volatility due to global politics, luxury penthouses are unlikely to devalue, as owners and developers are in the position to hold on to their assets and lease out apartments at high prices to tide over the doldrums. The continued advancement of the tech sector and globalisation will only see these numbers of foreign UHNWIs rising, who prefer to invest in the penthouses here instead of GCBs, as non-citizens are not allowed, under Singapore's real estate market policies, to acquire GCB property.
While there may be a few exceptions to the rule (as with our friend Dyson, who purchased a GCB a year after the fateful Wallich apartment), the luxury penthouse still remains an attractive asset, one for which sales is set to continue soaring to great heights.
Our love story with the penthouse continues
The penthouse will always be perceived as the pinnacle of luxury, glamour, and sophistication, an icon of having arrived in the world of the super-rich and a crowning glory to one's real estate asset class. It has stood the test of time since its early metropolitan beginnings in the last century and continues to evolve in sophistication and opulence over time.
Kaizar Karkaria & Sunita Gill, CEO of Singapore Luxury Homes, have sold over 50 Penthouses in the last 10 years. Kaizar helps his clients understand how to effectively use the space with luxury design partners. Sunita is privy to the best penthouse deals in the market, through her extensive knowledge and network and has been quoted in various magazines and publications, both local and international, on penthouses and the luxury market.
''That five out of 10 of the world's super penthouses on sale are in Singapore signifies the strength and stability of our economy against countries that are 10 times bigger in market capital and size,'' says Gill.
The penthouse will, indeed, continue to capture the hearts and imagination of the next generation, as the epitome of 21st-century luxury urban lifestyle.