Singapore Luxury Homes (SLH), a super-prime real estate team and one of Singapore's true property specialists, supported the seventh edition of Tatler Homes Design Awards by presenting the Best Penthouse award. Held on June 27, this annual event shone a spotlight on remarkable projects by Singapore-based designers and architects.
Photo credit: TatlerAsia.com
The Claymore Ballroom at the Pan Pacific Orchard provided an enchanting backdrop for the glittering awards dinner, where more than a dozen homegrown designers, architects and developers were celebrated amidst an atmosphere of camaraderie.
Dynamic and Vibrant Designers
The awards ceremony showcased Singapore's vibrant and dynamic design scene, honouring visionary designers who redefine luxury living and captivate with awe-inspiring spaces. Each accolade symbolised a triumph of innovation and marked a milestone in Singapore's design landscape.
"By supporting talented local designers and architects, we aim to give back to the design community and inspire future generations," says Sunita Gill, COO and Co-Founder of Singapore Luxury Homes.
Truly remarkable interior design transcends mere aesthetics, delving into the client's vision and preferences to meet both practical and stylistic requirements, transforming a house that goes beyond surface beauty, into a personalised home blending form and function, nurturing comfort and lasting appeal for years to come.
Photo: Kaizar Karkaria, Stephanie Tay (Managing Director, Tatler), Sunita Gill, Angela Loh,
At Singapore Luxury Homes, we believe in the power of collaboration and providing comprehensive services to our clients. Our clients often seek our expertise and recommendations on top-tier interior designers who can curate a luxurious living space aligned with their unique aesthetics. Our team offers consulting partners on various aspects of pre- and post-property transactions, including remittance partners, due diligence, leasing advice as well as interior design partners. 
"Our commitment to fostering expert connections ensures that our clients receive the highest luxury of design services while nurturing lasting relationships in the industry," continues Kaizar Karkaria, CEO & Co-Founder of Singapore Luxury Homes.
'Best Penthouse' Presented by SLH
One such outstanding project is the breathtaking waterfront The Berth By The Cove penthouse in Sentosa designed by Prestige Global Designs (founders Michael Ong and Jeremy Tay pictured below with Gill and Kakaria), the recipient of the 'Best Penthouse' award presented by Singapore Luxury Homes at this year's event.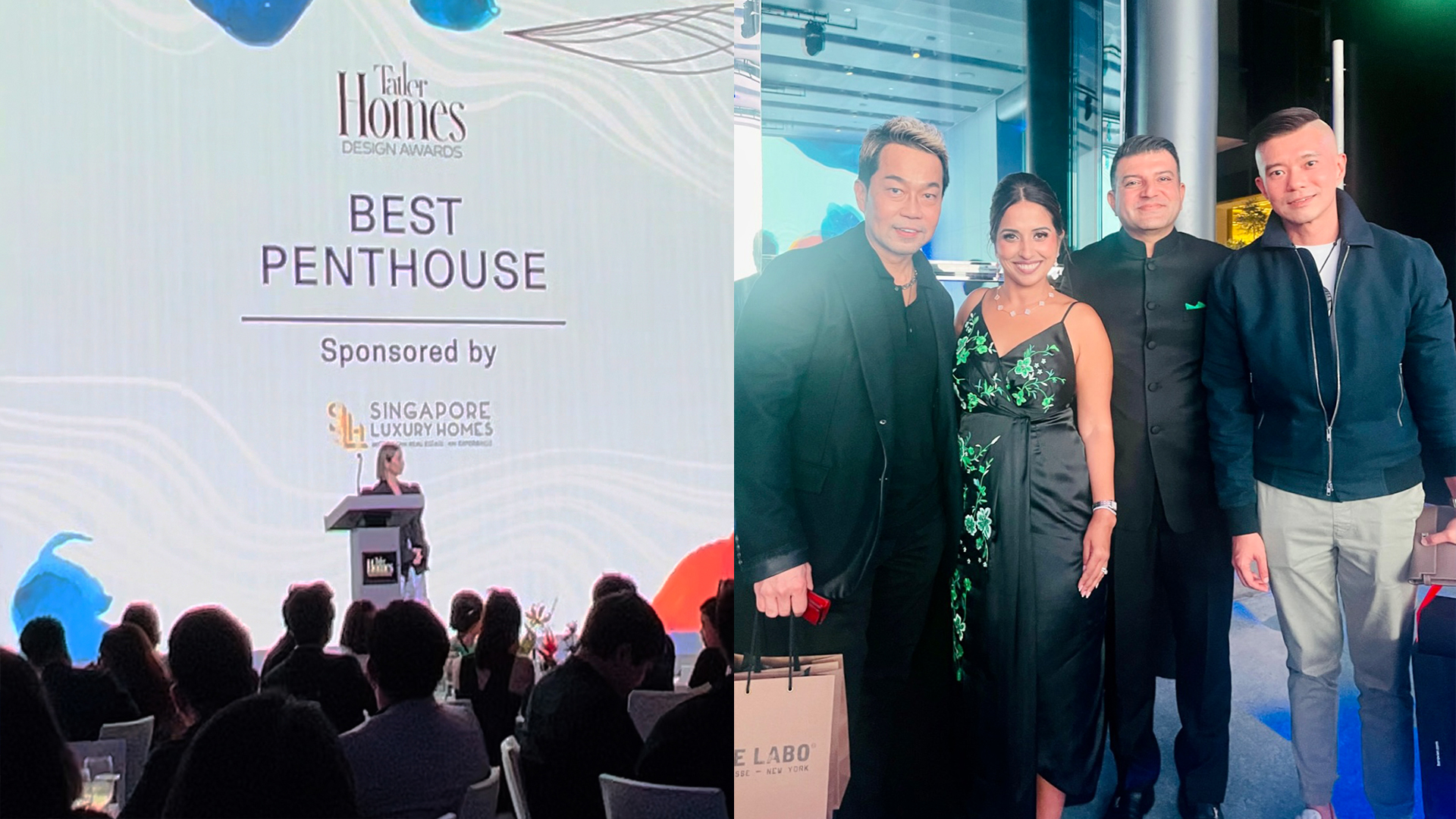 Photo right: Sunita Gill and Kaizar Karkaria with Prestige Global Designs Founders Michael Ong and Jeremy Tay.
Spanning 3,500 square feet, this luxury penthouse in Singapore offers mesmerising sea views and boasts spacious interiors. The study area stands out with its dark marble flooring and illuminated wooden shelves beautifully displaying a collection of books, records, and Lladró figurines. The lavish living area features mirrored walls, art deco-style screens, a luxurious Ditre Italia sofa, and vibrant cushions by renowned designers Christian Lacroix and Jim Thompson.
As the evening concluded, SLH remains steadfast in fostering collaboration within the design community. The property agency champions local talent, nurtures creativity and provides a platform for brilliance to shine. By supporting initiatives like the Tatler Home Design Awards 2023, Singapore Luxury Homes celebrates achievements while catalysing collective growth and inspiration, amplifying the voices of our homegrown design professionals on a national stage.
---
Related Article
Discover our exclusive interview with Divya Anthony, the visionary founder of Antone by D, an innovative Singapore designer making waves internationally. Gain insights into her creative journey and learn how she is pushing boundaries and expanding her design influence across borders.