Key Highlights of Residential Property Market Q3 2023
Singapore's private home property market outlook in 2023 shows signs of slowing, with reduced sales compared to the previous year and increased caution among potential buyers due to high interest rates and an abundance of unsold units. This slowdown mirrors trends seen after the 2013 cooling measures.

Landed home prices experienced their first decline in more than two years, mainly due to a drop in detached house transactions, even as semi-detached and terrace home prices rose.

Residential resales formed a larger share of overall sales at 55.8%, and sub-sales grew to 6.8% from Q2's 5.3%.

In 2023, the private rental market stabilised after last year's surge, with the ultra-luxury segment growing at 5%. Increasing housing supply suggests moderating rents, and foreign professionals and families are emerging as key tenants.
New Private Residential Sales Fell To A New Low
In Q3 2023, Singapore's private residential property market outlook saw a slight uptick of 0.8%, rebounding from a 0.2% dip in the previous quarter, according to Urban Redevelopment Authority (URA) estimates. This marks a subdued growth trend, with the past two quarters averaging just a 0.3% hike, starkly contrasting the robust 2.1% average quarterly growth in 2022.
However, new private residential properties in September reached a 9-month low, selling only 217 units, a stark drop from August's 394, according to a release by PropNex. This is the sharpest decline since December 2022. Comparing year on year (YoY), September's sales were significantly lower than the same month last year. This year's total for the first 9 months also lagged behind 2022's numbers.
Every region in the city experienced this drop in sales in Q3 2023. Property prices in the city's heart (CCR) dropped by 2.7%, continuing a slight decline from the previous quarter.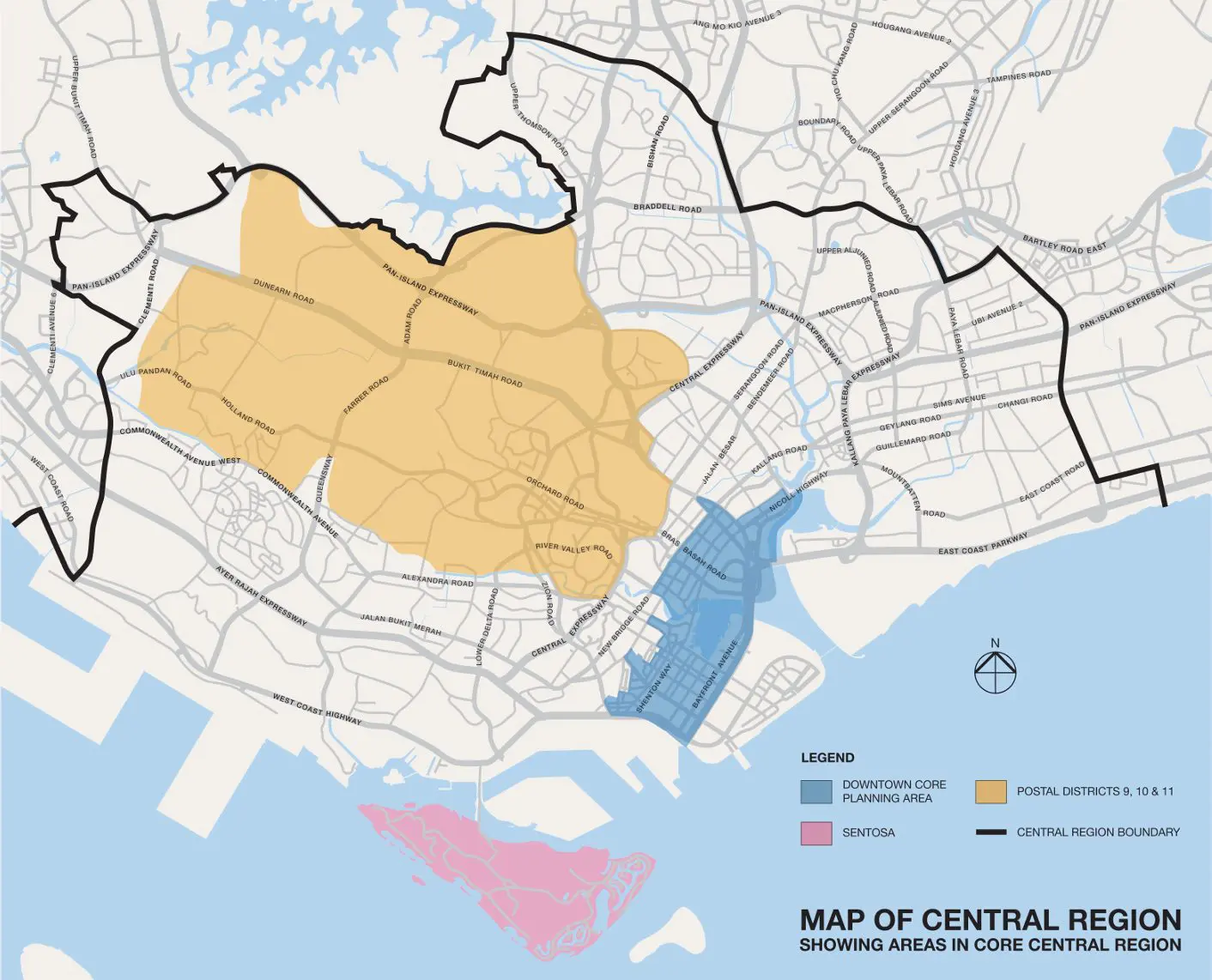 Meanwhile, prices in the surrounding areas (RCR) rebounded with a 2.1% increase after a previous drop, and farther areas (OCR) saw a significant 5.5% rise, up from a 1.2% increase in the quarter before.
Country Glossary
Core Central Region (CCR): the city's prime area, including Districts 9, 10, 11, Downtown Core (District 1), and Sentosa (District 4). Positioned centrally, properties in the CCR are highly sought after due to their strategic location and usually command higher prices than in other regions of Singapore.
Rest of Central Region (RCR): refers to the areas around the city's fringe. This region includes Districts 12, 13, 14, 15, and 16. The RCR typically offers a balance of city proximity with a slightly more relaxed environment, and properties here often cater to those who seek both convenience and a bit of distance from the bustling city centre.
Outside Central Region (OCR): encompasses areas not within the city's immediate vicinity. This region includes Districts 17-28. Properties in the OCR cater to those who prefer suburban living, offering a quieter environment away from the city hustle while still providing essential amenities and connectivity.
Outside the city core, sales could have been buoyed by new launches. However, the Shorefront project only managed to sell three units. Nearer to the city centre, sales, while higher in value, averaged around $2,500 per square foot.
Sales in the city's heart plummeted due to recent Additional Buyer's Stamp Duty (ABSD) rules, making it more expensive for foreigners to buy, and a dearth of new projects could have influenced this. Still, Pullman Residences in Newton stood out, fetching over $3,000 per square foot.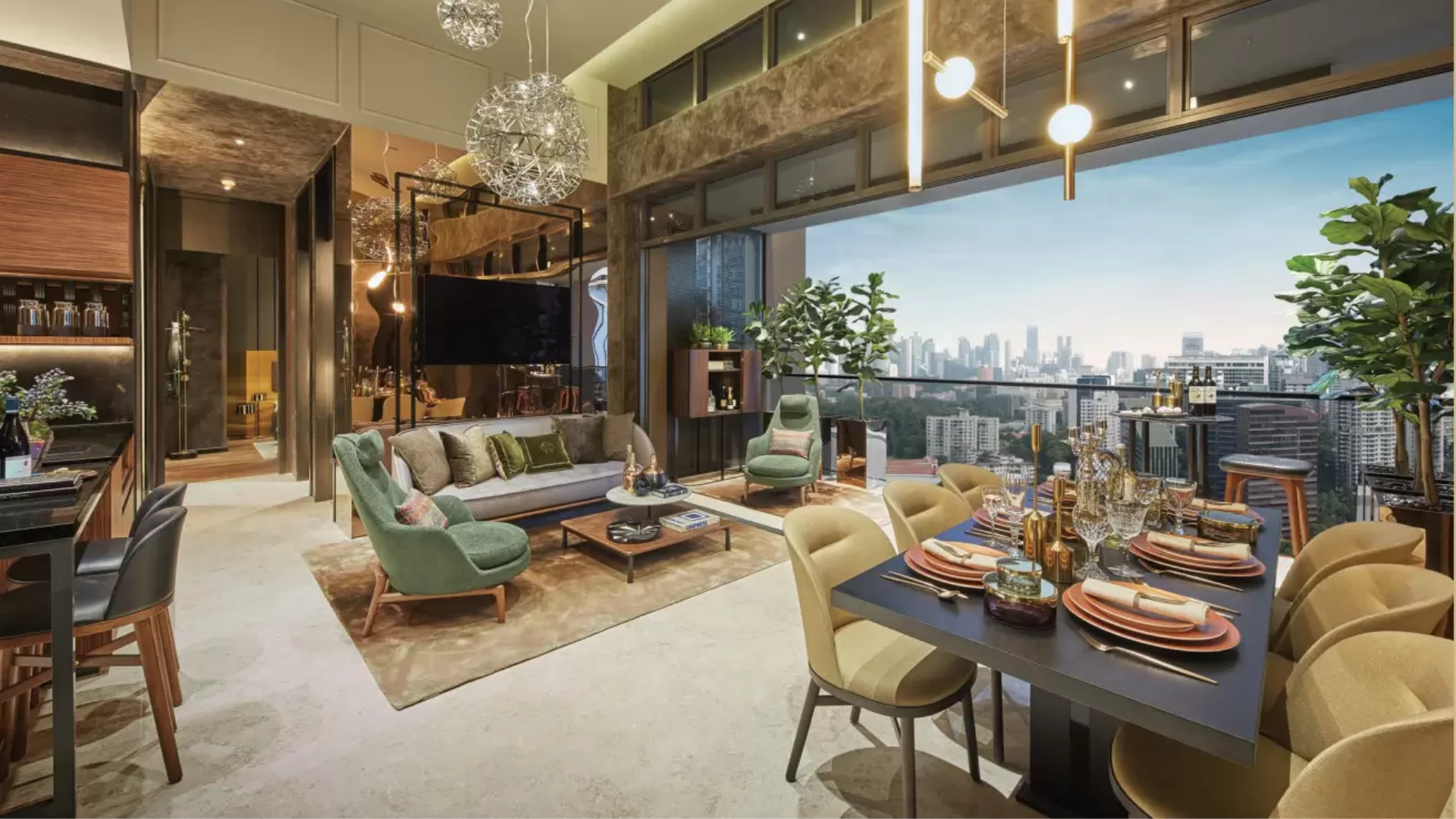 Pullman Residences luxury condominium prices starting from $1.4M. View property details →
Also notable was the Grand Dunman, which led the sales in Q3, moving 580 out of its 1,008 units with an average price of $2,536 psf.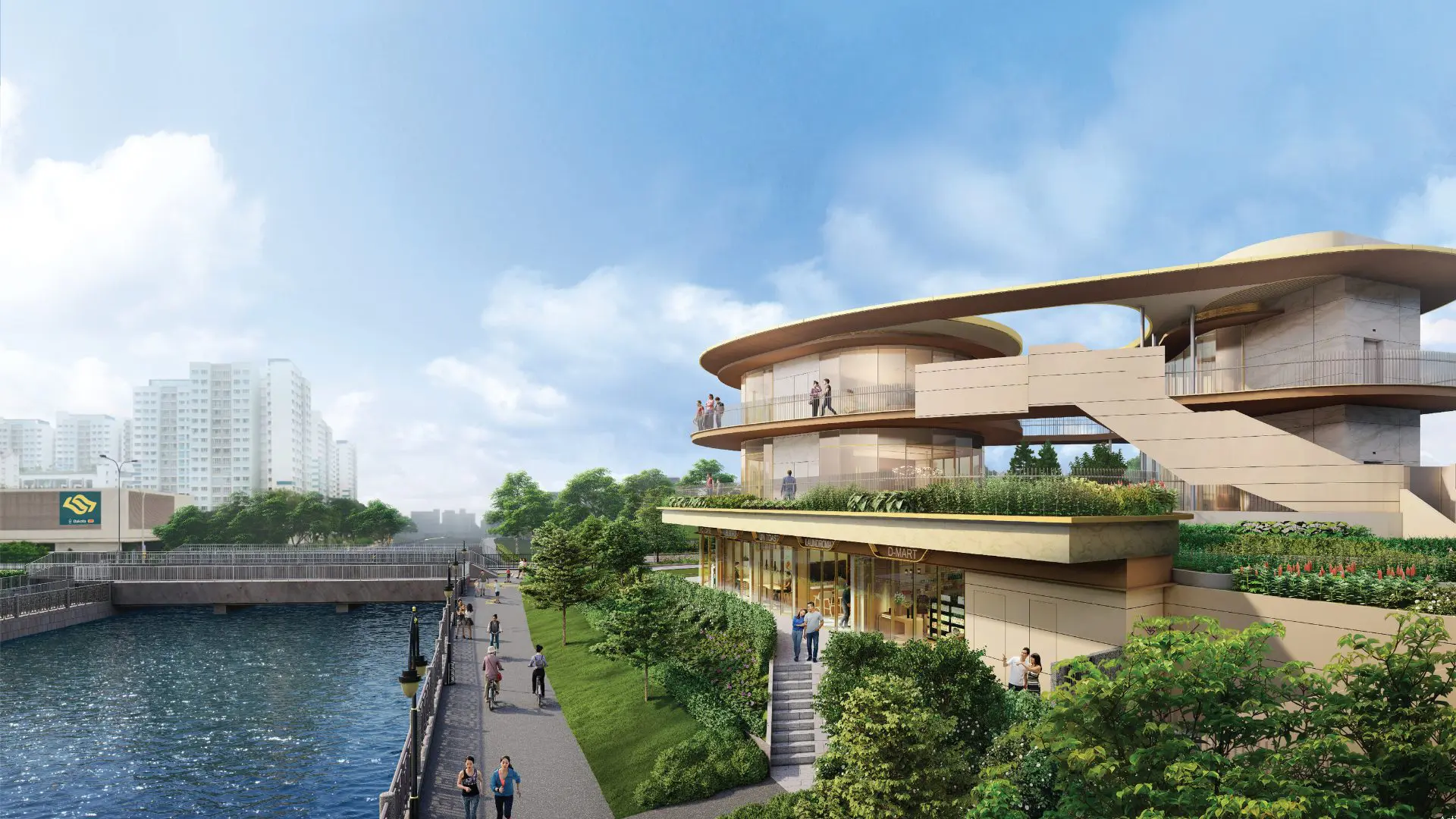 Grand Dunman luxury apartments starting from $1.093M. View property details →
The outlook for the private property market in Singapore showed signs of struggle, with sales being supply-driven and needing significant launches. The peak in private home prices, a surplus of unsold units, and the current high interest rates have given pause to potential buyers, making them reconsider their choices.
At the end of September, there were 5,407 new private home sales. This suggests that 2023's total might fall 500 units at both the high and low to 6,500 to 7,000 from previously projected figures. In contrast, 2022 saw 7,099 units sold. These numbers are reminiscent of the period between 2014 to 2016, post the 2013 cooling measures, which dampened housing demand.
| | | | |
| --- | --- | --- | --- |
| Month | CCR (psf) | RCR (psf) | OCR (psf) |
| January 2023 | $2,884 | $2,589 | $2,083 |
| September 2023 | $3,151 | $2,544 | $2,067 |
Based on URA Realis data, the CCR's median price for non-landed new private homes surged 10.5% month-over-month (MoM) to $3,151 psf in September, influenced by projects like Midtown Bay and Perfect Ten. The OCR's median rose slightly by 0.3% MoM to $2,067 psf, driven by developments like Lentor Hills Residences. However, the RCR's median dipped 2.9% MoM to $2,544 psf, possibly due to fewer transactions in projects like TMW Maxwell.
---
Read related article: 5 Mixed-Development Condos in Singapore Blurring Boundaries
---
Proportion of Total Sales Grew Despite Slight Decrease in Resale Transaction
According to the URA, the residential outlook for Singapore property markets for resale transactions amounted to 2,900 units, marginally down from Q2's 2,976 units. However, as a portion of overall sales, resales slightly grew to 55.8%, up from 55.2% in the preceding quarter. 
On the sub-sales front, Q3 recorded 355 transactions, marking an uptick from the 285 units in Q2. This segment's contribution to total sales rose to 6.8%, a notable increase from the 5.3% observed in the prior quarter.
Landed Home Prices Dip
In Q3 2023, the property market situation and outlook of Singapore landed home prices dropped by 3.6%, while non-landed property prices rose by 2.2%, marking a reversal from the previous quarter's trends.
This is the first quarterly decline in landed home prices in 9 quarters since the 0.3% QoQ drop in Q2 2021. The decrease in landed home prices can be attributed to the slower transaction volume, particularly that of pricier detached houses, which saw transactions fall by about 32% QOQ in Q3. 
Based on URA Realis caveat data, the average unit price for detached houses declined by 8.3% QOQ in Q3, while that of semi-detached and terrace homes grew by 24.2% and 11.2% QOQ respectively.
---
Read related article: Smart Investments: Navigating Landed Property Investments in Singapore
---
Private Rental Market Cools in 2023, After Last Year's Surge
In mid-2023, the private residential rental market began stabilising after a nearly 30% surge in 2022. 
In the 3rd quarter of 2023, private residential property rentals saw a subdued growth of 0.8%, a decline from the 2.8% rise in the prior quarter. This marks the fourth straight quarter of moderating rental increases, with this period recording the smallest quarterly gain since Q4 of 2020.
In Q3 2023, rental growth slowed for all market segments. Non-landed CCR rentals dropped by 1.7%, a shift from the prior quarter's 2.0% rise. RCR rentals saw a 1.9% increase, slightly down from the earlier 2.0%, while OCR rentals grew by 1.3%, compared to the previous 2.9%.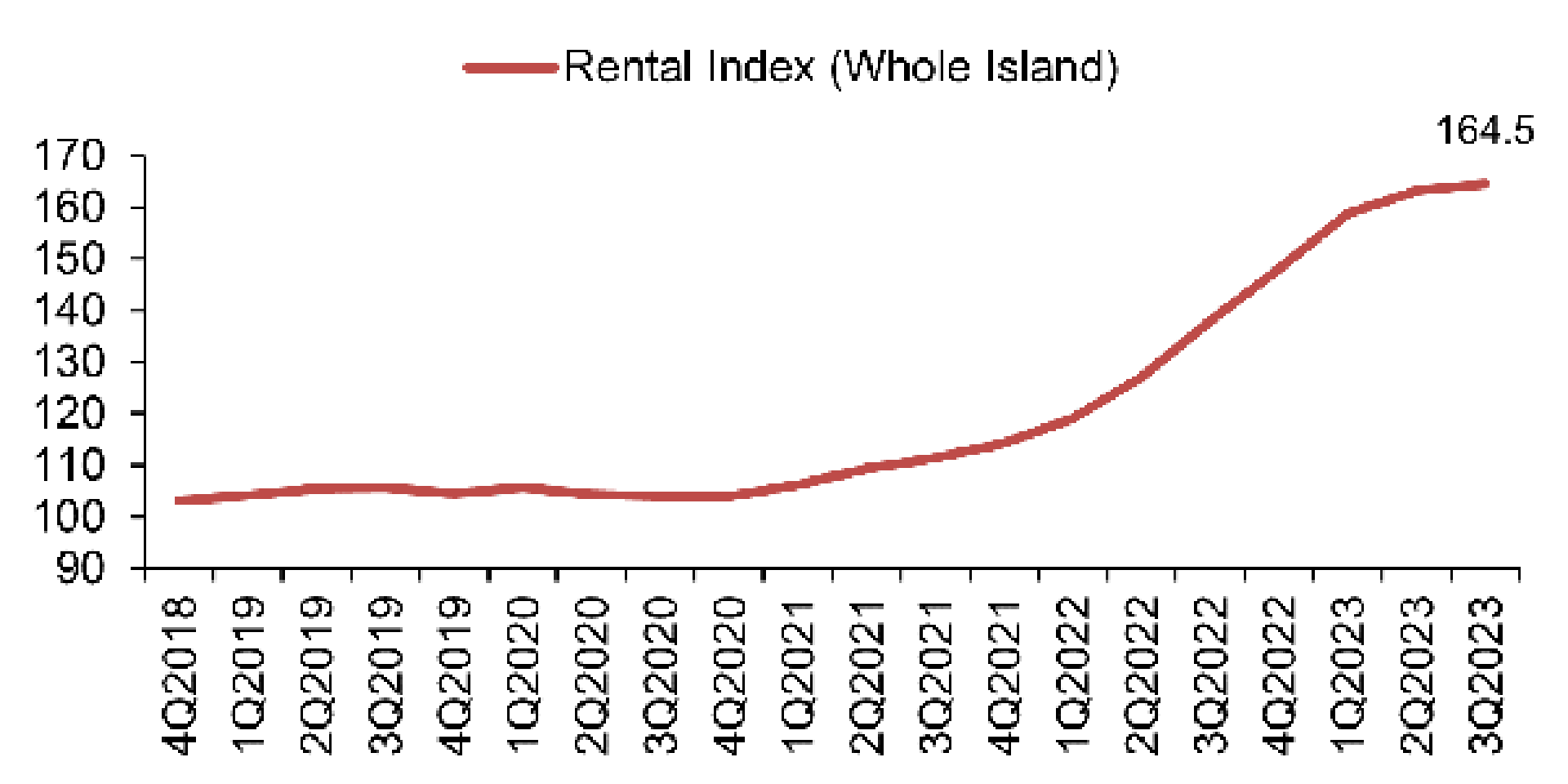 August's median rentals reached $5.05 psf per month, a rise from last year's $4.21 but a decline from April's $5.16 peak.
July and August 2023 saw 16,291 rental contracts valued at $97 million, fewer compared to the same period in 2022's 18,014 contracts but with a higher overall value. This shift reflects tenant pushback against climbing prices and a spike in housing supply, with over 7,300 new homes completed in the first half of 2023 and an expected 11,800 by year-end, potentially moderating future rents.
In Q3 2023, while the mass to high-end rental segments declined 2% to 6%, the ultra-luxury part rebounded with a 5% gain, as reported by Knight Frank. 
These factors suggest the end of the previous year's rapid growth phase, signalling a more balanced leasing outlook on the Singapore property market or real estate.
Significant Record Home Completions, More to Come
In Q3 2023, over 9,000 new residential properties (including Executive Condominiums) finished, the most in a single quarter since Q2 2016; the first 9 months of 2023 saw over 17,000 new homes, 3 times more than last year's period. Some significant projects completed include Treasure At Tampines and Normanton Park.
Country Glossary
Executive Condominiums (ECs): a type of public housing developed by private developers and a hybrid of public and private housing. They are similar in design and facilities to private condominiums. Still, they are sold at a lower price with some restrictions, catering to Singaporeans who exceed the income ceiling for public housing but find personal property out of reach. After 5 years, ECs can be sold in the open market to Singaporeans and Permanent Residents, and after 10 years, they can be sold to foreigners, effectively becoming fully privatised.
Right now, there are roughly 37,000 homes still being built (excluding ECs), and out of these, around 16,747 have yet to be sold. If we include ECs, the total number rises to almost 41,851, with about 17,576 unsold.
For the rest of 2023, more than 3,000 more homes will be completed. By the end of the year, around 20,400 new homes — the most in a year since 2017 — are expected to be completed, with another 12,032 homes (including ECs) in 2024.
Considering all private residential units in the works and those planned, almost 30,000 homes are available for sale in the next year or two as part of the government's plan to build 100,000 new private residences by 2025 to ensure enough homes to meet demand and stabilise the Singapore property market outlook.
---
Read related article: Singapore Commerical Property Outlook: Demand for Premium Office Spaces Continued in Q3 2023
---