Is Landed Property a Good Investment
Singapore, the vibrant nation renowned as a global financial hub, has long been a place where real estate enthusiasts use landed property investments as an avenue for wealth accumulation. Singapore's geographical constraints undeniably play a role in its property market dynamics, especially when it comes to landed properties. With its finite land resources, every square foot becomes a valuable asset. 
Landed property, in this context, isn't just a symbol of prestige and a space for living but a tangible, limited commodity. By investing in such real estate, people are essentially acquiring a piece of Singapore's scarce land, hedging against future land shortages and potential price escalations.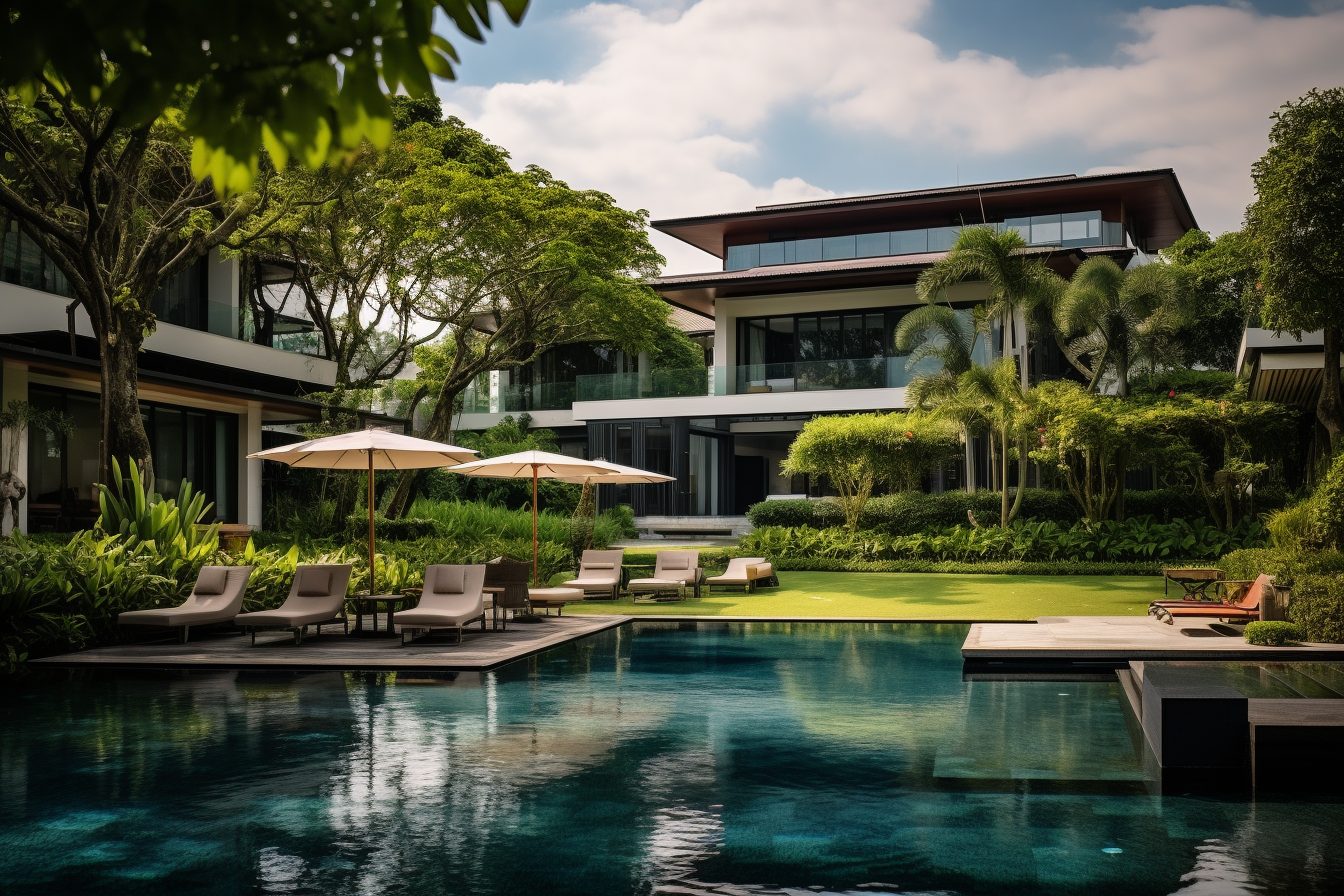 In regions with limited land, such as Singapore, real estate emerges as a sophisticated strategy for safeguarding wealth. Historical metrics provide compelling evidence: a notable 40% price appreciation in the past decade. A longer retrospective reveals a nearly threefold surge since 2003. For the strategic investor, Singapore's landed property serves as both a shield and an opportunity.
Recognising the nuances of this segment is paramount. In its intricacies lie both lucrative opportunities and potential pitfalls. 
Invest in Landed Property in Singapore
: An Overview
In a city where skyscrapers and high-rise buildings dominate the skyline, landed residential properties represent a slice of exclusivity and refinement. Starting with the range of options, potential investors can choose from various types of landed homes, each catering to different needs and investment strategies. 
Landed properties, unlike condominiums or apartments, are valued for their individual land ownership opportunities, making them rare and highly sought-after commodities in the limited land space of Singapore.
"One truth remains constant: luxury properties stand timeless, always in vogue and perpetually sought after by smart investors," says Sunita Gill, COO and co-founder of Singapore Luxury Homes. "Landed houses are an investment that never loses its lustre."
Whether it's the blend of space and connectivity in semi-Ds or the expansive potential of bungalows, understanding these differences is key to making a sound and fruitful investment in Singapore's thriving real estate landscape. From the efficient design of terrace houses to the unmatched luxury of GCBs, each class presents their own unique proposition. Let's take a look at the landed property price trends in Singapore from 2003 to 2023. 
1. Terrace Houses
These are the most common type of landed properties, typically characterised by a series of houses that 'mirror' the other homes on the street, as they share one or both side walls with neighbours. Their charm lies in the efficient use of space, often multiple-storied to maximise living areas. While they may not offer the same level of privacy as more isolated property types, their affordability relative to other landed properties, makes them an attractive investment for many.
The property terrace houses market breakdown included 3,888 new units sold, with 26,163 resale units for 30,431 total units transacted in the past two decades, bringing in a growth rate of 273%.
In 2003, the average price per square foot (psf) for terrace homes was $475, and a total of 975 units were transacted. Fast forward to 2023, as of September 1, the number of units transacted had decreased to 534. However, the psf price had risen sharply to $1,784, underscoring the growing value of landed properties as investments.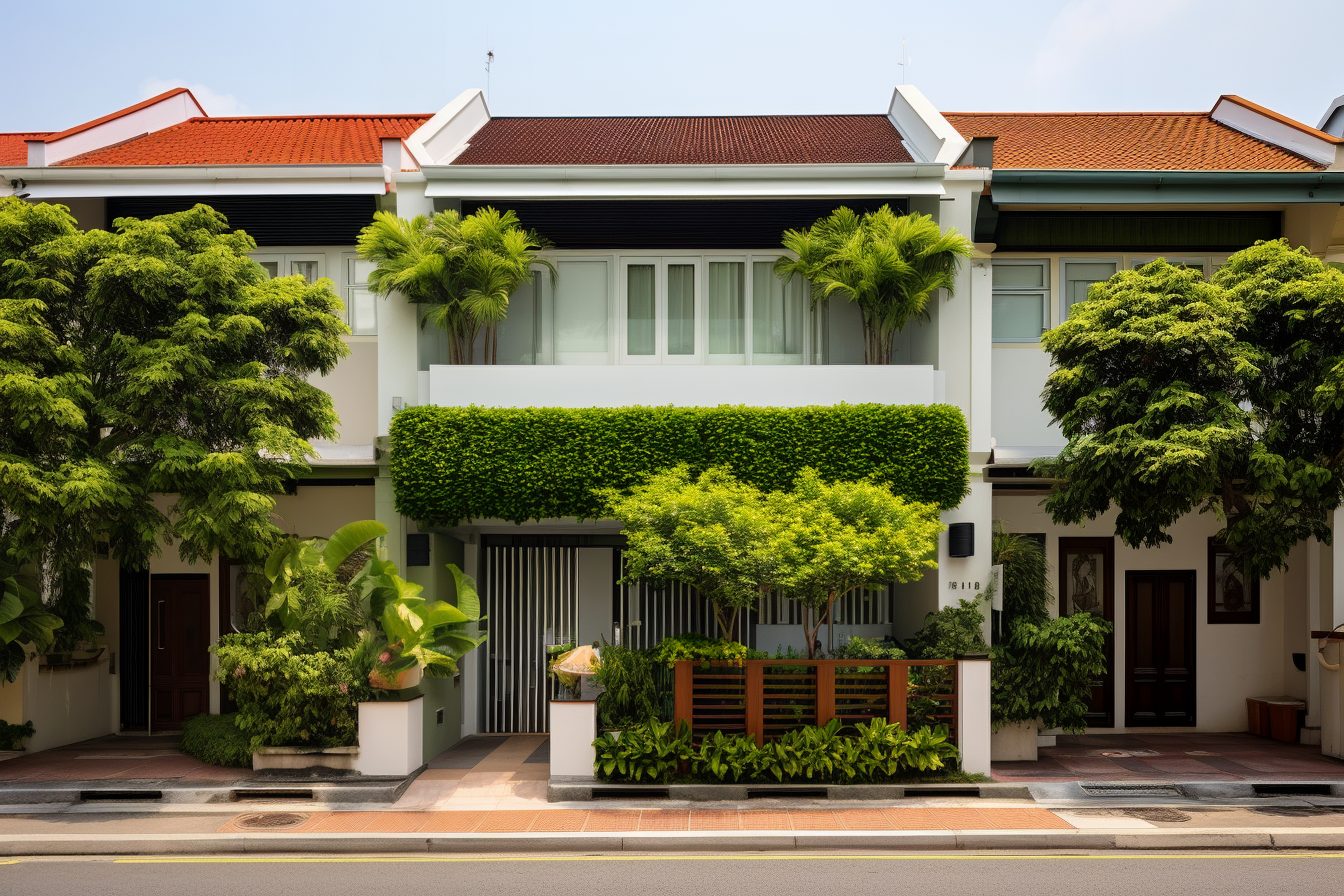 Terrace homes can be found dispersed across the city. In areas rich with Peranakan culture, such as Joo Chiat/Katong, these types of homes are often prominently found. They are also prevalent in Bukit Timah, especially around the Sixth Avenue and Hillcrest Road areas. Additionally, Tiong Bahru, a neighbourhood celebrated for its art deco apartment blocks, also has a sparse distribution of terrace homes.
2. Semi-Detached Houses
Often referred to as "semi-Ds," these properties are pairs of houses built side-by-side, sharing a common wall. They strike a balance between the compact nature of terrace houses and the spaciousness of bungalows. Offering a bit more land and privacy than terrace houses, semi-Ds appeal to those looking for a blend of space and intimacy. They offer the allure of landed living without the expansive footprint of larger properties. These properties typically offer a bit more space than terrace houses, allowing for a private garden or yard.
The semi-detached property market breakdown included 1,425 new units sold, with 12,940 resale units for 14,501 total units transacted since 2023, with an average price growth of 293%.
In 2003, terrace homes in Singapore commanded an average price of $419 per square foot (psf), with 511 units changing hands. By 2022, the landscape had shifted considerably, with transactions reaching 708 units, garnering a price of $1,510 psf.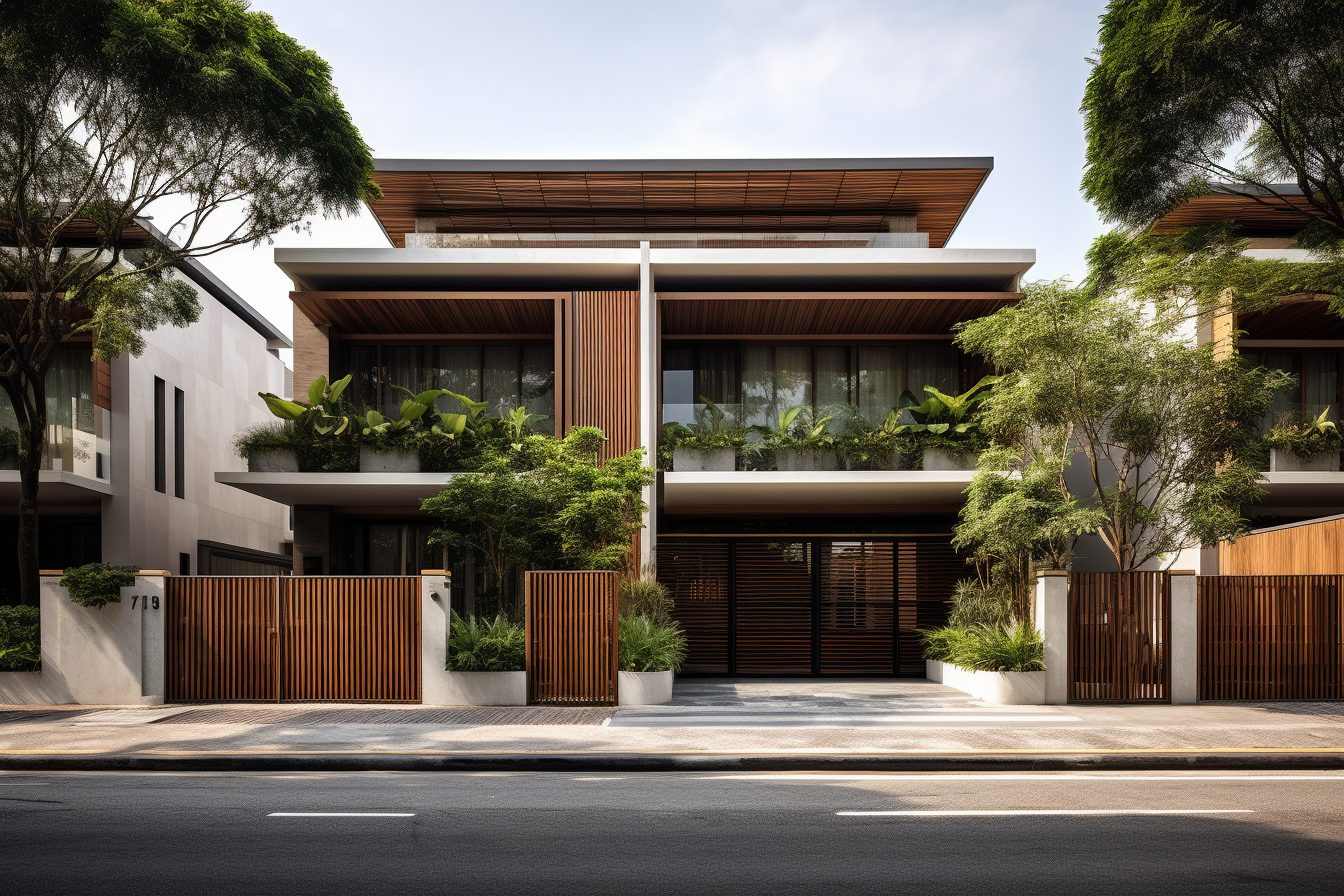 Semi-detached properties shine particularly around Bukit Timah, especially near Sixth Avenue and Dunearn Road, beautifully interspersed among stately bungalows. Holland Road and Tanglin in District 10 is another enclave teeming with semi-Ds. Not far from there, Watten Estate and Hillcrest, close to Bukit Timah, showcase a diverse range of these types of landed properties.
On the eastern side, areas like Siglap and Frankel are bustling with these sought-after semi-detached residences. Rounding off the list, the West Coast and Sunset Way areas offer a scenic tapestry of landed properties, punctuated by clusters of alluring semi-detached homes.
3. Bungalows
These are standalone houses that don't share any walls with neighbouring private properties. With no shared walls and often nestled within gated compounds, they are the epitome of exclusive residential living. They typically offer more land space, making them ideal for families or individuals craving privacy and ample room for personalisation. Their exclusivity, combined with the flexibility they offer in terms of design and expansion, makes them a great investment choice.
In Singapore, the bungalow market, also known as the detached property segment, has been bustling since 2023. With 474 new sales and 5,143 resales, the total number of units that exchanged hands reached 5,685. 
Back in 2003, the average psf for detached homes in Singapore stood at $356, with 234 transactions recorded. Fast forward to 2022, and while the transaction volume was slightly lower at 198 units, the price surged to a notable $1,454 psf representing a 351% growth rate in the last 20 years.
Read related article, Discover the Allure of Sentosa Cove Houses & Waterfront Bungalow Living.
---
For those seeking a touch of resort-like living, Sentosa Cove emerges as an exclusive enclave that promises waterfront living at its finest, with a portfolio of bungalows offering unrivalled views of the shimmering sea or tranquil waterways. Venture inland to the heart of Singapore's District 10, Holland Road, Tanglin and Bukit Timah stands as one of the prime residential areas for bungalows often with sprawling gardens. 
Moving slightly north, Watten Estate, Hillcrest, and Bukit Tunggal are nestled close to the Bukit Timah Nature Reserve, making it a sanctuary for grand bungalows that resonate with nature's calm. District 21, specifically Upper Bukit Timah and Chestnut Avenue, and you're greeted with a landscape punctuated by bungalows that enjoy the serenity of neighbouring nature reserves and parks, crafting a harmonious blend of urban and natural living.
Over on the east coast, District 15, which includes Siglap, Frankel, and Meyer Road, offers a picturesque coastal setting, and it's no surprise that it's dotted with a myriad of standalone bungalows that enjoy the serene ambience.
Lastly, in the northeastern precincts of Singapore, the Seletar Hills Estate stands proud, with its vast residential spaces that host a collection of expansive bungalows. Many of these homes here are either newly built or have undergone recent renovations.
4. Good Class Bungalows
Nothing quite compares to the top-tier wealth preservation of Good Class Bungalows, affectionately known as GCBs. Tucked away in exclusive enclaves reserved solely for them, these sprawling estates – often stretching beyond a generous 15,000 square feet – stand in a distinct class of their own. Their palatial size, combined with their location in the most upscale neighbourhoods, positions them not just as homes but as status symbols. 
Beyond their palatial size, their prized location in Singapore's premier neighbourhoods transforms them from mere homes into veritable status symbols. For those with an eye for long-term value, investing in a GCB is more than just acquiring property; it's embracing a legacy across generational wealth. 
Due to the planning constraints set by the Urban Redevelopment Authority and the need for approval from the Land Dealings Approval Unit of the Singapore Land Authority for foreign buyers, Good Class Bungalows have become highly sought after. In total, 21 new sales and 1,302 resales occurred, resulting in 1,323 units transacted since 2003.
The data shows that only 67 GCBs exchanged hands in 2003 at a psf of $384. Subsequent data reveals a 483% jump to $2,242 psf in 2023, underscoring GCBs as the best landed property investment segment in Singapore's real estate market, particularly for well-capitalised investors.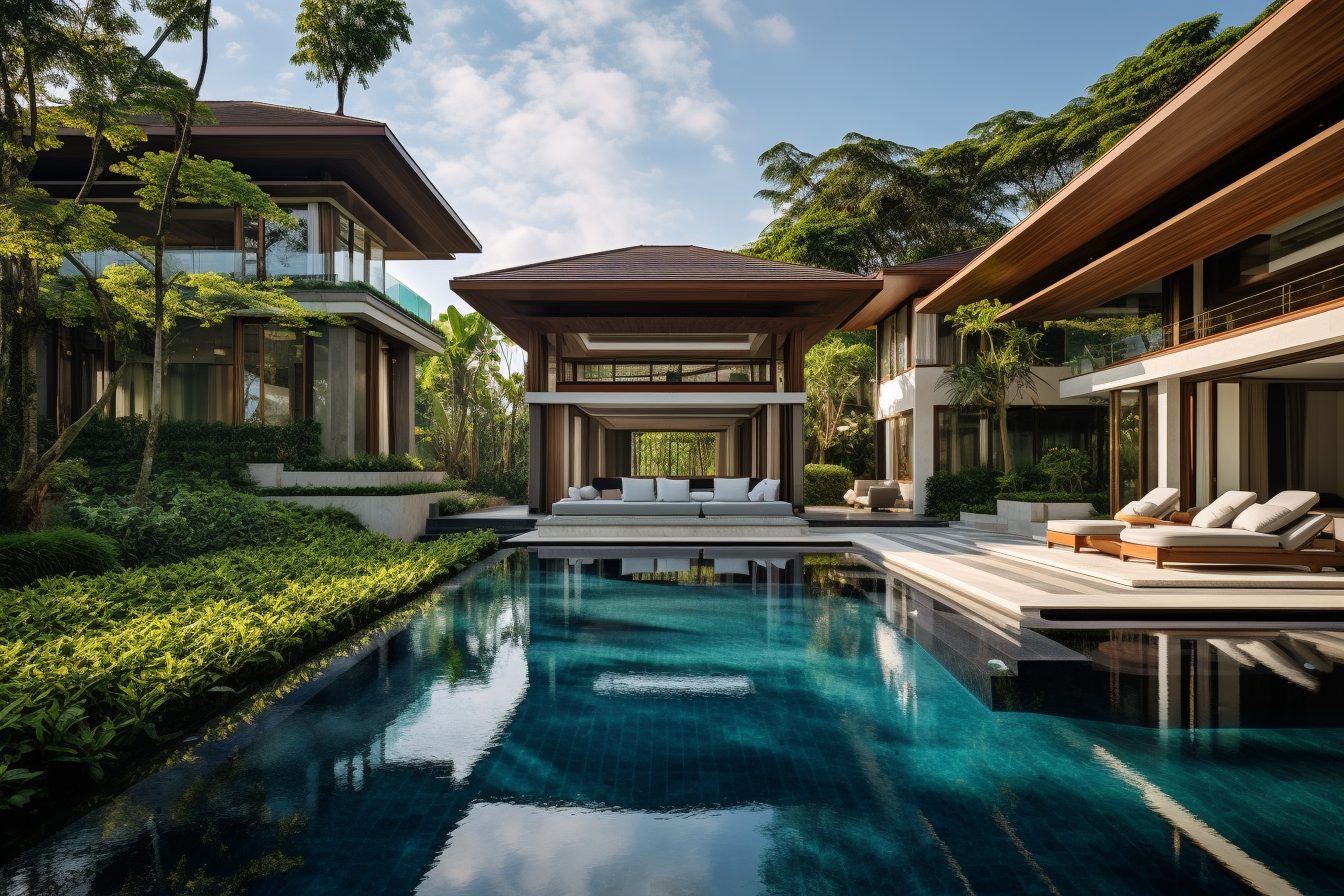 Read related article, Singapore's Nassim Road Tops Our List of Most Exclusive Streets. 
---
The iconic Nassim Road, often regarded as one of the most expensive streets in Singapore, shines through the shadows of Orchard Road offering its residents the best of every world. Nearby, Swettenham Road stands tall with its proximity to embassies and gives way to homes for the city's elite. The enchanting bylanes of Ridout Road and Peirce Road, near the Singapore Botanic Gardens, resonate with nature's symphony, offering a serene escape without forgoing urban convenience. White House Park parades properties that are monuments of design. Further into Tanglin, Chatsworth Park weaves a narrative that blends urban luxury with nature's embrace.
---
Testimonial
"My wife and I were introduced to Kaizar of SLH through a business associate. Shortly after I knew he was the right person to sell our home. Kaizar understands the Bungalow market in the Bukit Timah area very well and was able to get us a qualified buyer from his networks upon a month of listing. This was very impressive as we are private people who did not want unqualified buyers to view our home. We remain closely associated and know Kaizar works with some of our business associate and friends." 
— Mr Hambly, Seller, of Coronation Road West
---
The sprawling landscapes of Leedon Park beckon those craving solitude in the lap of luxury, while King Albert Park, nestled in the Bukit Timah enclave, showcases lush architectural designs. Streets like Olive and Cable Road, adjacent to bustling Holland Village, offer a dynamic neighbourhood ambience. Coronation Road West, situated in the Bukit Timah precinct, blends age-old grandeur with contemporary finesse. Meanwhile, on Andrew Road, homes offer panoramas overlooking MacRitchie Reservoir in the nature reserve.
Why Invest in Landed Property
?
While all landed properties in Singapore offer the allure of space and individual land ownership, each type caters to different investor profiles and needs. From the efficient design of terrace houses to the unmatched luxury of GCBs, each class presents a unique value proposition. Whether it's the blend of space and connectivity in semi-Ds or the expansive potential of bungalows, understanding these differences is key to making a sound and fruitful investment in Singapore's thriving real estate landscape.
Delving into Singapore's real estate market, landed property investments invariably emerge as a compelling option, beckoning both local and international investors. But what truly gives these landed assets their prominence?
Firstly, there's the undeniable aspect of capital appreciation potential as seen in the market trends of different property types above. Historically, landed properties in Singapore have shown a promising upward trajectory in property valuations. With a growing economy and continual influx of high-net-worth individuals, the demand for such premium assets is poised to grow, making it a potentially lucrative long-term investment.
As we look forward to the horizon of real estate in Singapore, it's evident that upcoming infrastructure projects will play a pivotal role in shaping the market's dynamics. The government's continued investment in transportation, housing, and urban renewal projects is not only expected to enhance connectivity and accessibility but also elevate the overall living standards for residents. These infrastructural developments, such as new MRT lines and green initiatives, are anticipated to influence property values, especially in areas directly benefiting from these enhancements.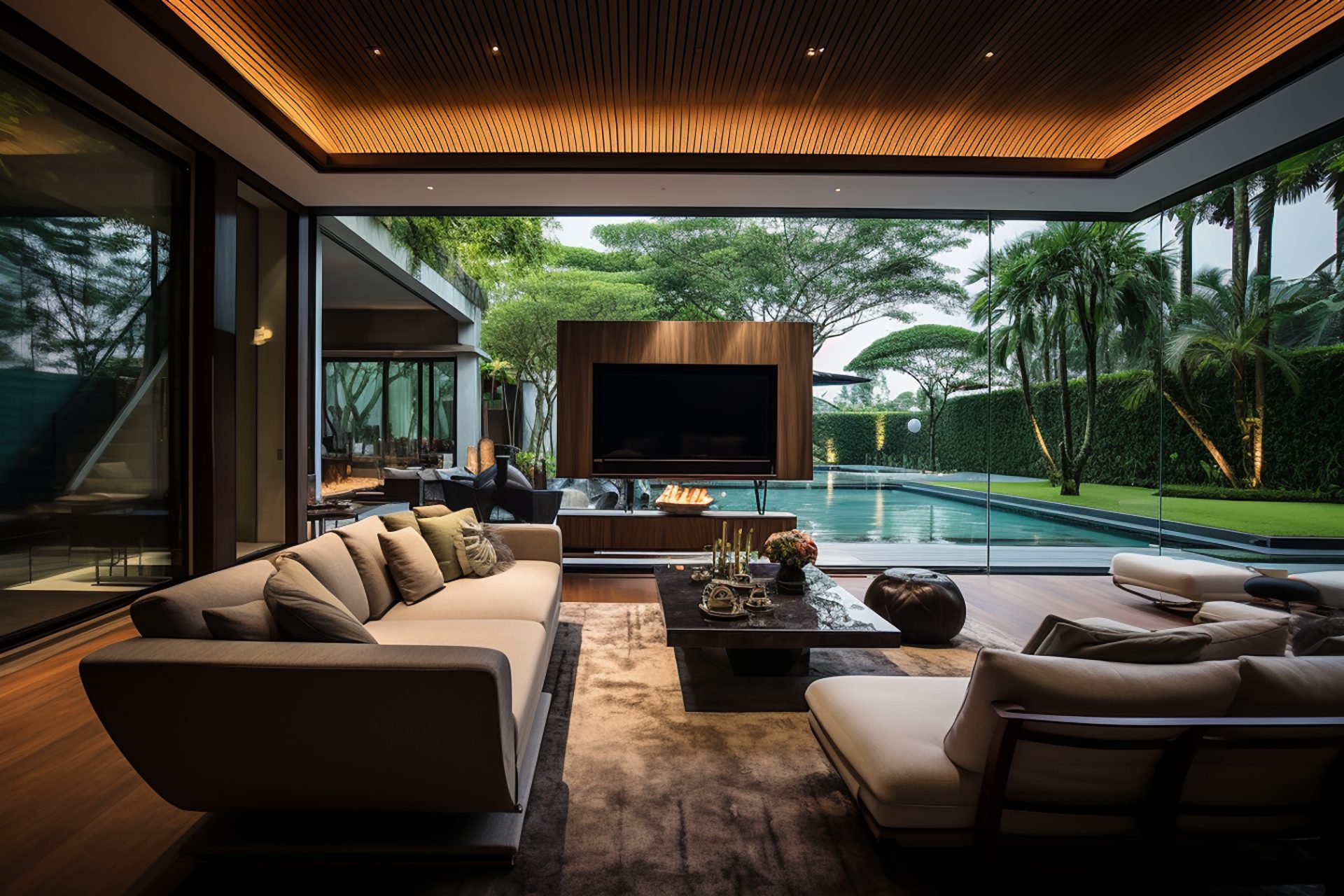 Read our related article, Rising Demand: Landed Properties in Singapore Charms HNWIs
---
Next, the geographical realities are more than just a buzzword. It's a tangible factor driving up property values. With limited space and an ever-growing population, the real estate truism of 'they aren't making more land' resonates deeply in Singapore. As available land dwindles and demand remains unabated, landed properties naturally see a surge in their intrinsic value.
Lastly, beyond the numbers and potential returns, there's an intangible yet powerful factor: the prestige and exclusivity that landed homes command. Owning a piece of land in a bustling metropolis like Singapore is not just about square footage, it's a statement.
In essence, while every investment has its risks and rewards, Singapore's land and property investment presents a unique interplay of tangible assets and intangible prestige, making them an investment for both local and foreign nationals.
Read our related article, Additional Buyer's Stamp Duty (ABSD) Remissions & Exemptions for Foreign Investors.
---
On the regulatory front, the government's policies continue to play a decisive role in directing the property market's trajectory. Interventions like the Additional Buyer's Stamp Duty (ABSD) and Loan-to-Value (LTV) limits have been instrumental in cooling down an otherwise overheated market in the past. Moving forward, investors and homebuyers alike will be keeping a close eye on any regulatory shifts, as these can significantly impact property demand, prices, and overall market sentiment. 
As Singapore continues to position itself as a global hub for business and innovation, it's anticipated that the government will introduce policies that both stabilise the market and ensure housing remains accessible to its diverse population.
In the dynamic world of investment, the only constant is change. Market conditions, economic indicators, geopolitical events, and even technological advancements can all influence the investment landscape, often in unexpected ways. As such, for investors to not only safeguard their assets but also capitalise on opportunities, it is paramount to stay informed and maintain adaptability throughout your investment journey.
If you're ready to invest in a landed property or looking to sell your home, connect with our team at Singapore Luxury Homes.